How many of you here are fans of mindless gore and horror that will stimulate even the most daring of people? I know that I am and that a good portion of our audience enjoys content that borders on the edge of crazy insanity. And honestly, I'm all down for it. In fact, Escape Room: Tournament Of Champions is a film that is exactly the kind that would fit your preferences in that case. And that is exactly what makes it such a good candidate for a review on our blog. After all, everyone is already amped up for Escape Rooms and gore.
I have been waiting for some time to review this movie now because it is a really important one for fans of the franchise, and those who follow such films closely. It brings together the best of the best for a final showdown against each other, and how much better does it get than that? Not much, I'm sure. In fact, the movie has been awaited for quite some time now, and while it has not been one to break the news, it is one that still warrants a review, just because of the legacy that it carries forward, and the expectations that have been set upon it. So without much further ado, let us talk about Escape Room: Tournament of Champions.
Read more: What Do You Know About The Sopranos Season 7?
Escape Room: Tournament of Champions Review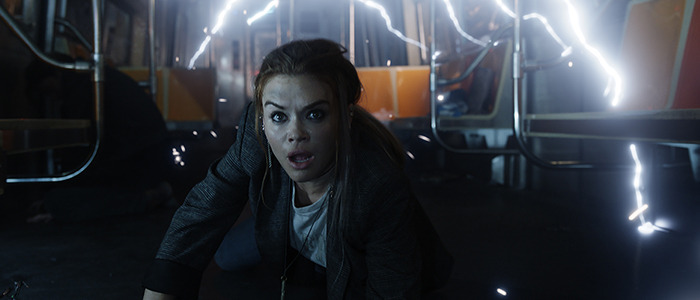 Now, those who have watched the Escape Room will already probably figure what the movie is all about just by reading the name. But for those of you who are not aware, the Escape Room is a film that takes six people from different walks of life and puts them in horrifying rooms that they need to escape from, all in a bid to win the prize of ten thousand dollars. However, they do not know how horrifying the circumstances would be when they sign up for the challenge and later go on to regret it.
Escape Room: Tournament of Champions expands on the events of the first film and brings us yet another competition. But things are different this time. This time, the six people find themselves locked into the rooms unwillingly and discover that they are all people who have played the game before and escaped from it. Two of the original characters make their return here in this beautiful rendition of the Escape Room.
If you enjoyed the Escape Room, you are definitely going to love Escape Room: Tournament of Champions, because this time, the movie pits the best of the best against each other, and hence becomes a tournament for the champions. The concept is again very similar to the original, however, the puzzles this time are more demanding, and things have been done in a more tasteful manner, which would surely bring out the demon in everyone. It's more creative, it's faster, it's deadlier, and all around, it's a much better version of the original. Although, it does not take the creative liberties or innovates nearly as much as the original did. 
The film comes up with the same issues as the first one though. It still does not have a plot or riveting storyline to back it up. With movies like Saw, you always had something to think about and there was always a motive and story behind everything. Here, though, the plot is a watered down derivative version of all that we have seen before. And while it is not the end of the world, it is still an issue with the movie.
Read more: Boss Level: One To Keep You On The Edge
Escape Room: Tournament of Champions Verdict
If I had to give a verdict for this movie, I would say that if you have to ask that question, you probably shouldn't watch it. Escape Room: Tournament of Champions is a movie that will appeal to those who are fans of such horror movies and love spending their time watching gore and messed up things. This is not one for the faint of heart and those who are not interested in this genre of movies.
Escape Room: Tournament of Champions is currently available to stream on Amazon Prime Video. You may check it out at the following link:
Watch Escape Room: Tournament of Champions on Amazon Prime Video
The movie currently holds a rating of 5.8 out of 10 on IMDb, based on multiple user reviews. IMDb is our preferred platform for all movies and TV shows.
You may watch the trailer for the movie here:
What are your thoughts on the movie? Did you enjoy it? Did you find it appealing to the genre? Let me know your thoughts in the comments down below.
Stay tuned in to the Franchise Hound for the latest entertainment updates.