There is no bond that can compare to that between a mother and her child. Or the bond between a father and his child. And that is the core driving force behind Netflix's new drama Fatherhood. Arriving just in time for Father's Day, Fatherhood is a feel good and warm movie that plays on the nurturing relationship between a father and child. Riding on a phenomenal performance by the reputed actor Kevin Hart, Fatherhood surprises us in a lot of ways, while disappoints in others. It's an emotional drama that will surely jerk a few tears from the audience. Today we're going to talk all about Fatherhood, what makes it tick, and what is its ultimate downfall. Keep reading on if the movie is one on your watch list.
You might also be interested in Ray Review: Bringing Satyajit Ray's Work To Netflix
Fatherhood: What's The Movie About
Fatherhood is an exceptional emotional drama, based Matthew Logelin's best-selling book, Two Kisses for Maddy: A Memoir of Loss and Love. The story follows Logelin's struggles as a single parent and father, after the death of his late wife, which happened just after their daughter Maddy was born. The story follows his struggles and thoughts as a single father, whom society doesn't consider up to the task of raising a daughter. What's worse is that he himself doesn't have a lot of self confidence about it either. And it takes us through all the challenges of raising a daughter as a single father in today's age. The movie doesn't try to downplay any of the realities that exist. And that is something that needs to be appreciated.
Read More: Katla: Netflix Hits A Home Run
Fatherhood: What Makes It Tick
It is not a single thing that makes the movie tick. Rather it is the way everything comes together in this drama. It is just so down to earth and real that it is tough to really raise questions about what it gets wrong. It explores in depth the challenges Logelin had to face as a single father, following the tragic death of his wife that would leave most of us in tears. His daughter Maddy has to grow up without a mother, the impact of which cannot be overlooked, and has not been in the way the movie portrays the relationship between Maddy and her father. The challenges are definitely there, and the problems are definitely something Maddy has to struggle with. Questioning her own femininity, Maddy is brought face to face with the glaring issues that come with such tragedy.
Fatherhood is not a light weekend flick in any way. Rather, it explores the depth of such relationships, and the importance of a mother. It explores everything that needs to be explored, and does it due justice. And that is something we have to commend the movie makers for. While it does tend to settle for more audience friendly moments at times, it is not afraid to be itself. Following this, the final act for the movie is also really moving and has a lot of weight to itself, with intense moments and a good sense of direction and situation. We're especially pleased with the way that the movie makers have managed to include humor in a movie that is otherwise very serious and talks about some heavy stuff.
Read More: Sherni Movie Review: Vidya Balan Takes The Helm
Fatherhood: What Brings It Down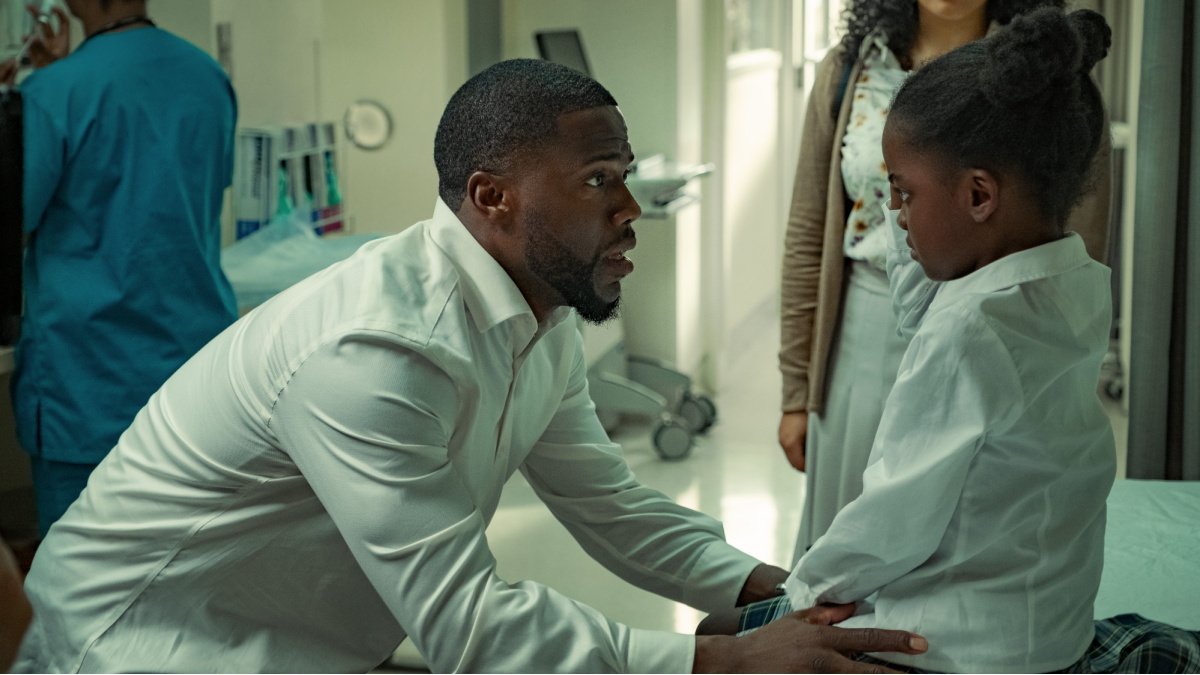 Unfortunately, Fatherhood is not without its flaws. Not in the least. There are a number of glaring flaws in the movie. And they are what hold it back from really being a one of a kind movie. The movie had excellent potential with the already excellent plot and the understated yet phenomenally amazing performance by Kevin Hart. This is something we cannot state more. The plot was amazing, and the acting next level, but eventually there are things holding the film back.
One of the major issues with the movies is its use of humor. While it is also a strong selling point for it, it is ultimately a major downfall. The movie tries to inculcate humor in moments where it isn't required. To provide some respite from the seriousness, the use of humor is abundant. But it feels forces and out of place. Maybe if the plot allowed for it, it would be something we would appreciate. But here it just feels clumsy.
Also the movie feels a bit rushed after the initial act. While the initial act took its sweet time to set everything up and imbibed a sense of longing in itself, the second act feels like a series of scenes put together under a deadline. It just doesn't have the same build up or connection or development really. It is not good. Everything is just a bit awkward and doesn't feel as hard hitting as the movie's initial moments. Things are flying off the hook for no reason and it doesn't really make any sense. Things that are not emotional are too emotional and things that should be aren't emotional enough. It is all just too clumsy.
Read More: Thalapathy 65 Second Look: Action Entertainer, Beast!
Fatherhood: Verdict
Ultimately, there is a lot to like about Fatherhood. The performance by Kevin Hart has to be the headline here, as he gives a phenomenal one. And we are not overstating this. As someone who has made his career as a comedian, Hart just blows us away here in this intense role. So full credit to him. The plot is also amazing, no doubt about that. But eventually, the overuse of humor and the general clumsiness of the film is what brings it down in our opinion. The uneven pacing also doesn't help. The initial part of the film is what makes it truly a good movie. But the remaining awkward part can be a bit off putting. And that's what makes it difficult for us to really rate Fatherhood as one of the best. It had that potential, no doubt about that. But it simply doesn't live up to its potential.
Fatherhood is a good movie and one that we definitely recommend, but it is nowhere near a classic, and we would recommend you keep it reserved for one of those lazy weekend watches.
Read More: Army Of The Dead: Zeus Origin Story Leaked
Fatherhood: Where to Watch
All that being said, you might now be curious as to where you can watch the film. Fatherhood is a Netflix Original movie and is only available to stream exclusively on the platform. You may watch it on Netflix by clicking the link below:
Fatherhood currently has a rating of 6.7 out of 10 on IMDb, based on thousands of user reviews. IMDb is our preferred review and rating platform. And this is a decent rating for a movie of this genre, but nothing special. So it is up to you whether you want to watch it.
What do you think about the movie? Did you jerk a tear during the initial moments of the movie? What do you think of Hart's performance in this intense serious drama? Let us know in the comments section down below.
Stay tuned in to the Franchise Hound for the latest entertainment updates. We are always up to date on the latest news and rumors.