FBOY Island is one of those shows that will have you thinking about the life you're living. And then comparing it to life on reality shows. It is just that sort of show. A dating show with… well, FBOYS, FBOY Island takes lewd dating to the extreme. And in a manner that most teens would love.
FBOY Island is the sort of show that a juvenile teen boy would put on during the night or a teen girl would watch. It gives that sort of vibe, and it is pure mindless entertainment at its core. There is nothing of substance really to talk about and you can just keep watching it for no reason. And sometimes, that is what we really need from a show. Don't you think so?
The synopsis for the show goes like "Three women in a tropical island are joined by 24 men, where half of them are self-proclaimed "nice guys" and the other half "FBoys". Who will the women choose and find real love with?"
If you're not in the mood for a TV series or just want to watch something light, we might have something in store for you. Recently, we talked about Jean Claude's latest movie The Last Mercenary: Not A Jean Claude Masterpiece. Do check it out once, if you like light entertainment.
FBOY Island: What Happened in Season 1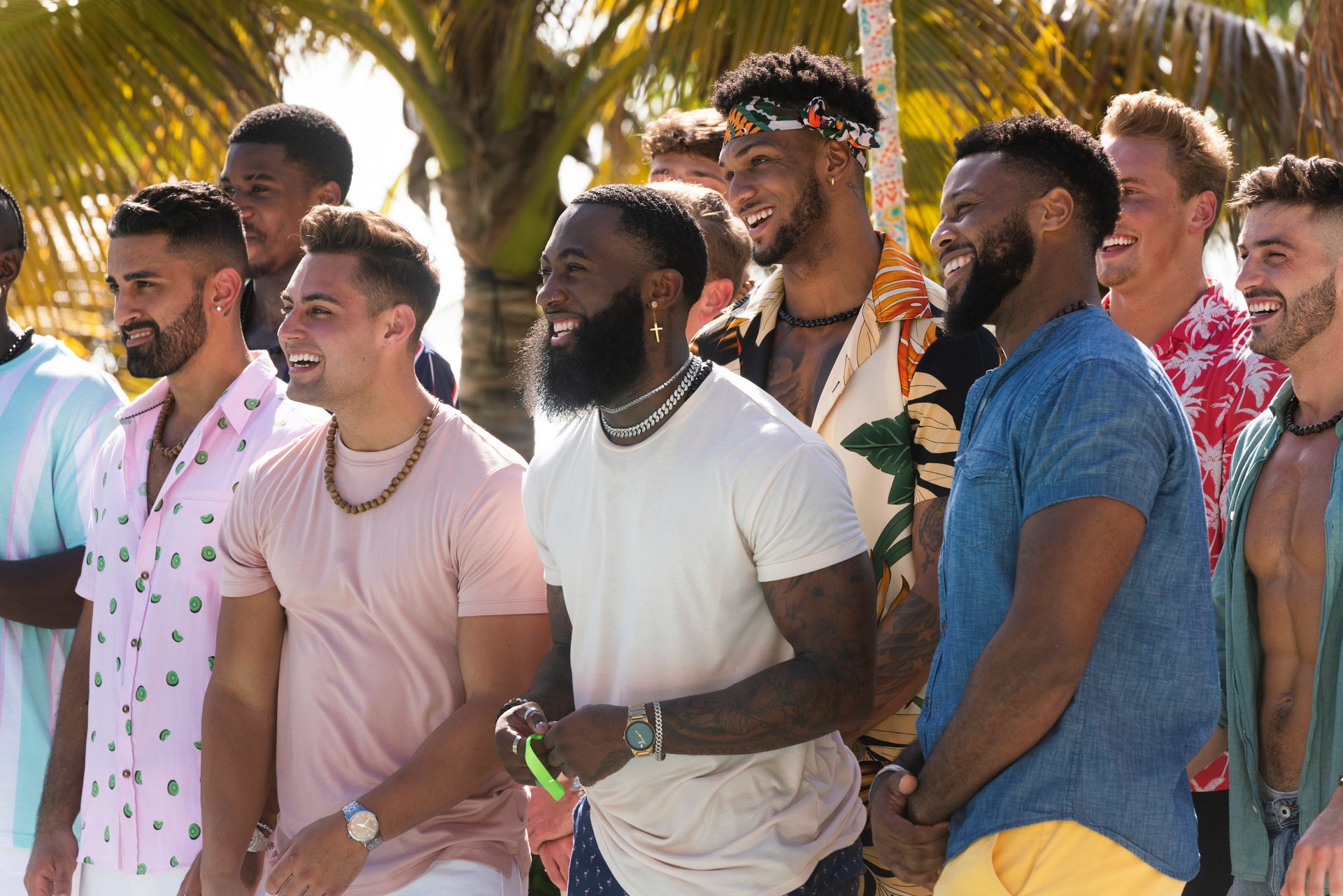 I started watching FBOY Island with some expectations that it is going to be different. And it is. Not in the ways that one would usually expect, but it is indeed different. The first season of the show brought a lot of drama and entertainment for us viewers. At the end of the first season, fans of the show were witness to a lot of drama, entertainment, and ultimately, a good amount of heartbreak. Oh well, not that I didn't expect it.
CJ and New Jarred hit it off, and so did Nakia and OG Jared, but things didn't turn out so well for our girl Sarah, who was left all alone. And so was Garrett. But he suffered his own fate, as he lost all the money that he had thought would be his.
The first season of FBOY Island was certainly a very interesting one, and must I say, quite a hot one too. It was probably the most popular dating show this season, and it has the figures to say so. In fact, HBO reported that FBOY Island was their most watched reality TV show on their online streaming service HBOMax. That is a lot to brag about. And I am bound to take their word for it.
FBOY Island was certainly an interesting watch, as there were 9 men for each women. With a total of 24 men and just 3 women, you can guess the kind of vibe we are talking about here. It is just something on another level. The casting is huge, and took a large amount of effort to really put together. And for the most part, we really enjoyed the mindless entertainment that the show provided.
Read More: Cocaine Cowboys: The Kings of Miami Is The Drug Show You Need To Watch
FBOY Island: What About a Season 2
Coming to the second season of FBOY Island, it is really difficult to say anything as of now. While there is a strong chance that the show might return for a second season, it is difficult to say anything as the first season for the show has just ended and there is bound to be a period of silence following its release. Even the reviews haven't fully come in yet, so there is a lot of time for season 2. Season 1 is all the talk of the town right now. And we agree with the popularity that it is getting.
Talking about a season 2, given the sales figures that HBO is reporting, it is a very good business decision to bring back the show for a second season. It is quite obvious that they will bring back their most popular show, don't you think?
Added to all this is the fact that the producer of the show herself seems quite interested in a second season. In fact, she is not just interested in a second season. Elan Gale, the brains behind it all, wants an entire franchise based on the show! That is big words coming straight from the show creators. Let us hope they deliver on it.
"What I'm hopeful for is that every season takes on a life of its own based on the leads. I think this season was really made by CJ and Nakia and Sarah. We followed their love stories. So I hope that every season allows us to follow whoever the leads are, and that's going to give us the difference," Gale said in her statement.
Read More: John And The Hole: A Sociopathic Thriller That Leaves You Wondering
FBOY Island: Season 2 Release Date
FBOY Island Season 2, while not being on the table right now, is expected to follow a pretty standard schedule. Given that the first season of the show has just ended, the show should go into production just months after this. We would estimate that the second season of FBOY Island would arrive by mid 2022. That is a fairly conservative estimate keeping in mind everything and we are fairly positive that the timeline is not going to exceed late 2022. So there is still a lot of time to wait for the show.
Also take some time to read about Memories of a Murderer: The Nilsen Tapes | A Thrilling Documentary
FBOY Island: Where To Watch
FBOY Island is currently available to watch on HBO's own streaming platform, HBOMax. While HBOMax may not be available in all countries around the world, there are certainly alternatives where you can catch the show. We'll provide the link for HBOMax below:
FBOY Island currently holds a rating of 3.9 out of 10 on IMDb, based on multitudes of user reviews and ratings. It is quite a meagre rating to be quite honest, but it is to be expected given the nature of the show. IMDb is our preferred platform for reviewing all movies and TV Shows.
You may watch the trailer for FBOY Island here:
Do watch the show and tell us your thoughts about it? Did you like it? Are you interested in the concept? Did you find it similar to other reality TV content that we consume on a daily basis? Let us know in the comments down below.
Stay tuned in to the Franchise Hound for the latest entertainment updates.