Floppy Knights is an upcoming game that is sure to wow you with what it has to offer. I have recently been reading up a lot on Strategy games, and I have come to know about the so many different types of strategy games that exist out there apart from simple Real-Time Strategy games. And then when I came to know about Floppy Knights, I was simply blown away with what it was. It is a strategy game that is also a Deck Builder and manages to be a fusion of the two that simply works like a charm. If you have played games that have been heavily leaning towards either, then you would know what I'm talking about.
Do you play strategy games? Do you like them as a whole? I'm personally a really huge fan of them as they allow me to think and create things that I can't do in real life and to engage my mind in some really fun scenarios that make it fun and sharpen it all at the same time. So when I looked at what Floppy Knights had to offer, it appealed to the fun-loving strategist inside me. It was as if something was finally making sense and the game just looked like everything I wanted in a strategy game. Pair that with the deck builder style of the game and you have something that is just different in every way from the rest.
What do you think about the genre? Are you a fan of it? No matter what, Floppy Knights is one that you should be aware of. So without much further ado, let us get right into it.
Floppy Knights: About The Game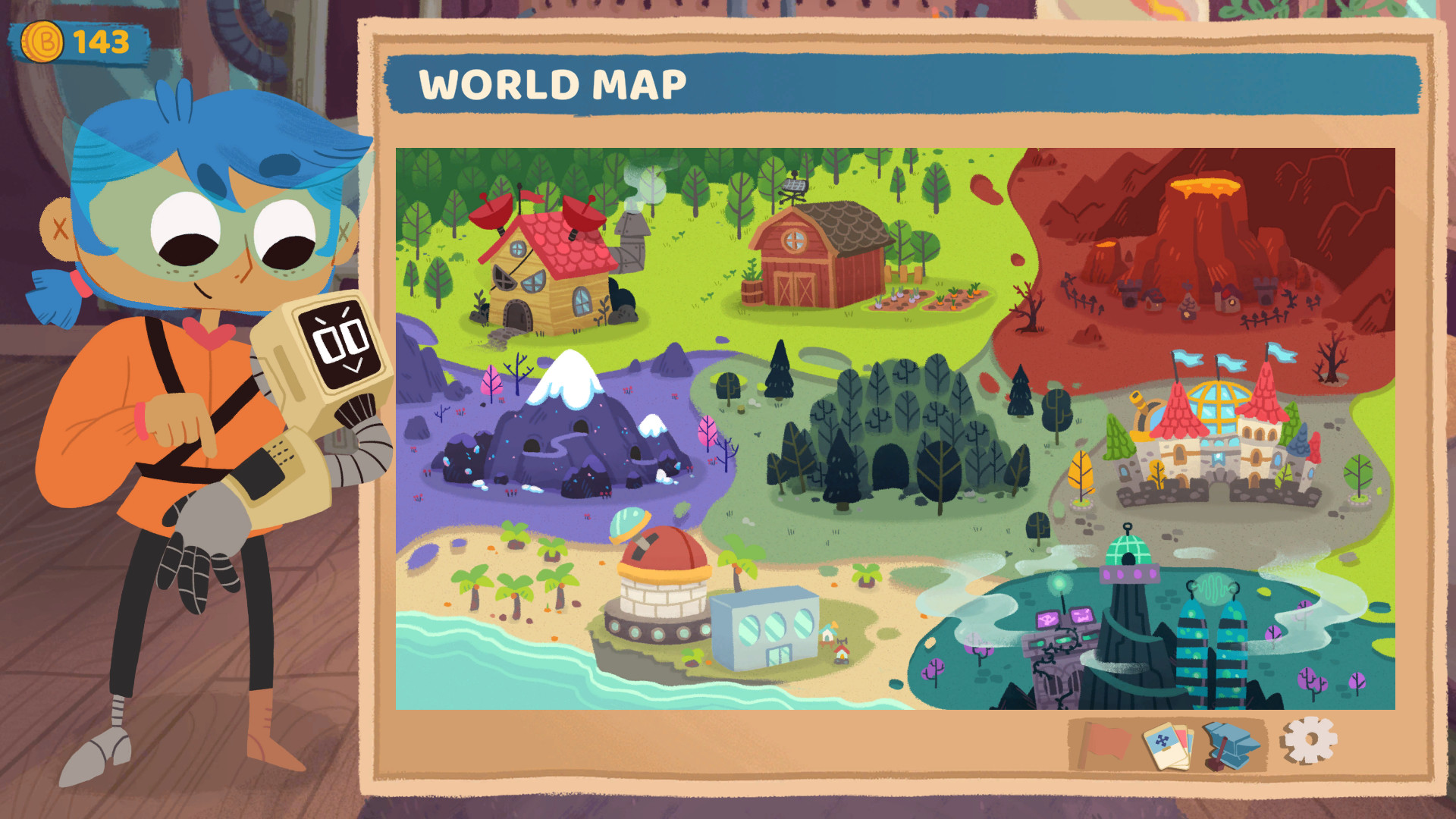 As I told you before, Floppy Knights is a strategy deck builder that is based on the idea of a deck builder game at its core. In this, the player takes on the role of an inventor who goes by the name of Phoebe. Phoebe is someone who has big goals, and her biggest goal right now is to move out of her parents' house. But she isn't alone. She is assisted by her bionic arm and assistant Carlton, who she invented herself. Making a cute pair, the pair start to take up odd jobs around them to earn some money and help Phoebe work towards her goal. Together, the duo makes use of Floppy disks that allow them to summon Floppy Knights who assist them with their work. All things considered, the concept for the game is pretty adorable and will have you in awe.
The game itself is based on a turn-based system that will have you traversing through the battlefield against the job where you will encounter bosses and collect different Floppy Knights, occasionally meeting some adorable new characters along the way on your journey. The game tries to keep the focus on the unique blend of turn-based strategy and Deck Building that it offers in addition to the different and unique art style that it is based on. As a player, you move your units around on the battlefield and attack your enemies as it might seem fair to you, collecting deck cards and employing them along the way to make use of the unique characters. It is all just so unique and makes for a really fulfilling experience, no matter who you are.
Read more: The Settlers: Ubisoft Revives Its Old RTS
Floppy Knights: Release Date
With the game now receiving so much love from the public even before its release, it becomes important to talk about when the game will come. Because many are already really excited about it. So the release for the game is highly awaited. But that isn't really a problem because the release date isn't that far away anymore. Floppy Knights are going to be released on the PC and Xbox platforms on May 24, 2022. That is here just 2 days away. So if you're looking to play the game, you don't have to wait much longer. It will be here in the blink of an eye and you will be able to play it. And if you are an owner of the Xbox Game Pass, then you won't even need to purchase the game because it is included in the Game Pass.
Read more: Starfield: Release Date, Plot, All The Latest Updates
Floppy Knights: Final Words
I'm personally really excited about the release of this upcoming strategy deck builder. It seems that we finally have something that is unique coming to the table and that is something I'm not willing to pass on. So I would suggest you give the game a shot if you're really into strategy games or even into deck builders because this one is going to be an amazing one for you.
You may check out the game here:
Also watch the trailer for the game here:
What do you think about the game? Are you excited for it? Do you want to play it? Let me know in the comments down below.
As usual, stay tuned in to the Franchise Hound for the latest entertainment updates.