How many of you are fans of video games? And how many of you are fans of movies? Now, what if I told you I had something that would quench the thirst of both these audiences? There rarely comes along a production film that is adamant on talking about how video games have changed the world around us, and are willing to take a look into this diverse world of its own. Which is why we are going to talk about Free Guy today.
Free Guy is not at all what you would expect by reading the title. Trust me, it is not even close to the impression you form when you hear the name for the first time. Free Guy is a movie centered around a character that isn't even real. Rather, the main character of the movie is a video game character. A character within a character, quite an interesting concept, don't you think?
Before this, Steven Spielberg made his last movie on the same lines. Ready: Player One was Spielberg's last movie before his retirement and was based around the video game industry. It was one of the most adorable films that we saw that year, and it is one that we still highly cherish. And now it seems that Free Guy is running along those same lines and is about to deliver some pretty amazing content.
Free Guy, running along those same lines, talks about the life of a character inside a video game. But it is not just any character. Well, actually is is any just character. And that is really the whole point of the movie. Our main character, Guy, is an NPC in a game. This means that he is a side character with no other value than to populate the game. Pretty harsh reality to accept, but it is what it is.
Since today we are talking about the worlds of legendary movies and director of the past, we feel that we definitely need to mention Jurassic Park: Sam Neill Spills The Tea On The Movies That Made Us. The franchise saw a revival after being featured on the show, and we would recommend you to watch it if you haven't done so already.
Free Guy: The Review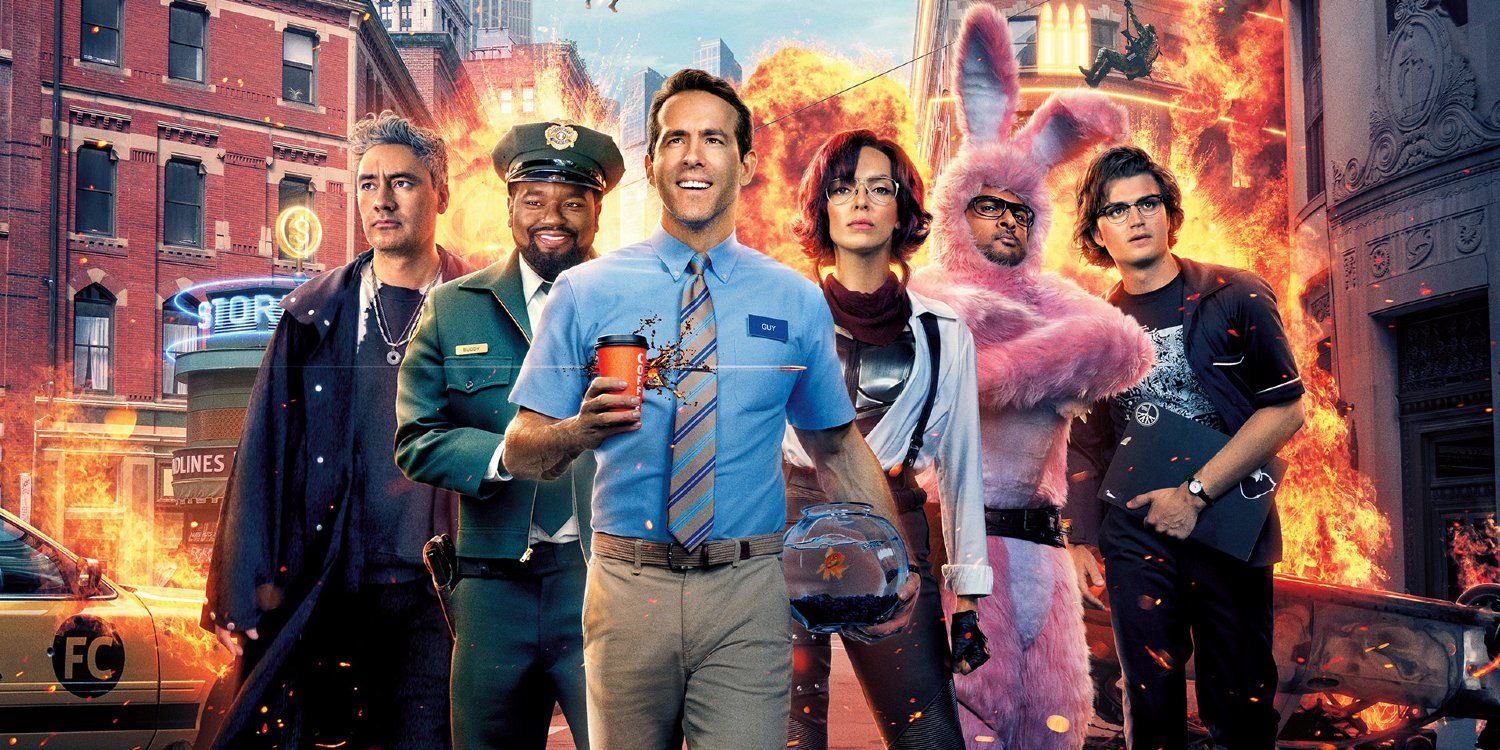 Watching Free Guy, I never had a moment where I felt that we had to get up or to skip certain parts of the movie. Now that is not much of a compliment I know. But you have to consider that it is a very different sort of movie. After all, taking up the most uninteresting character that you could find and making a movie around him is kind of a death warrant. Don't you think so?
The movie follows our main character Guy's life as he does the exact same things everyday, working at the same place everyday, and doing the exact same job for the entirety of his life. Quite a simple life, if a little lifeless. But Guy isn't really aware of this, because he wasn't programmed to know about it. He was just programmed to perform his function in the video game as a background character.
The movie takes really interesting turns as the story goes on and does induce a sense of feeling good as you watch it. It feels as if you're back to 18, life is good, and you don't have anything to worry about. That, according to me, is worth the watch in itself. How many times do you really get to experience that feeling? Not much, I bet.
The movie, through its feel good experiences, and its constant use of video game imagery and twisting plot, manages to retain its identity and establishing a new standard for movies of this category. Needless to say, Reynolds has come across a success here. And one that he should really celebrate. Because he has done a genuinely good job. Behind the scenes as well as in front of the camera.
Read More: John And The Hole: A Sociopathic Thriller That Leaves You Wondering
Free Guy: What The Team Had To Say
The team for the Free Guy movie had some things to say about the entire production process for the movie. When asked how they went about some of the dialogues and plot points, they simply stated some of the ways that they got together, brainstormed ideas, and bounced ideas off of each other, improvising everything in the process. It was quite an open communication environment, and a very inductive one too.
Talking about the visual effects that went into the movie, the team had a lot to say about it too. "We're creating worlds within worlds, we're really pushing ourselves, I think, to do things that are reminiscent maybe of movies from our childhood, fantasy films, even games that we may have played, but that we actually haven't seen on film before," the production visual team said. And it sounds really interesting.
You might also be interested in: Alice in Borderland Season 2: Everything You Wish to Know About This Japanese Series
Free Guy: Should You Watch It
It's a definite yes. Free Guy is a very fun and light movie for all of you movie and game lovers out there. Reynolds' newest movie is surely going to leave a good impression on you, and it is one that we personally liked too. So we would highly recommend for all our viewers to watch this movie. It is one that you should not miss.
Free Guy is currently streaming in theaters and on big screens. You might be able to grab a ticket for a local theater near you. Otherwise, you can check out the status of tickets on the following website:
Book Tickets on 20th Century Fox
Watch the trailer here
Free Guy currently holds a rating of 7.7 out of 10 on IMDb, based on a large number of user reviews. IMDb is our preferred platform for reviewing TV shows and movies due to the large user base and the conflicting yet beneficial discussion.
What are your thoughts on Free Guy? Are you a fan of video games? If so, how invested are you into the movie? Let us know in the comments section down below.
Stay tuned in to the Franchise Hound for the latest entertainment updates.