Kick-ass, back when it came out, set a new benchmark for the superhero movie genre. Till that point, no one had seen anything of that manner. Or anything like that in general. It was a first for many things, and set the path for future superhero comedies. At that point, superhero comedies were something that was only spoken of, but never implemented. Kick-Ass changed all that. It set a new benchmark for the genre. But now crossing over to another decade, we are still waiting to see a third installment in the series. So where is Kick-Ass 3? Is it ever going to happen? Is it even on the cards.
If you want to find out, keep reading on as this article will answer many of your queries and we'll also talk about the latest rumors and updates regarding Kick-Ass 3.
You might also be interested in Bad Moms 3: What We Know
Kick-Ass: About the Movie
Adapted from Mark Miller's Hit-Girl and Kick-Ass comics, Kick-Ass was an amazing superhero film that was launched back in 2010. At that time, the concept of a superhero movie with comedic elements and dark humour simply did not exist. It was something that was unheard of at the time. But Kick-Ass brought all of that to the table and much more. It was a story based around Dave, a high schooler, who in his ambitions to become a superhero inspired by comics, decides to take on law himself and become a vigilante. However, things don't go smooth as he meets up with Hit-Girl and Big Daddy, both of the other vigilantes in the series who are already functioning for quite some time. They all have to face their common enemy Frank D'Amico. The criminal must be brought to justice, and the three will have to do it together.
Kick-Ass was simply very different from other movies of its time. The movie became subject to a lot of controversy given its gorey and violent nature. This was something the public was not used to. And Kick-Ass had loads of it. The film gained a lot of controversy especially over the fact that Hit-Girl is only 11 and the series made quite a grotesque visual in the movie. The profanity was another subject for the masses to quarrel about. The film does not hold back on profanity at all and it shows. Overall, the film paved way for other dark superhero comedies such as Deadpool in the near future. It was a revolutionary film for its time.
You might also want to read about Infinite Stratos Season 3: Will It Ever Come Out
Kick-Ass 3: Will it Happen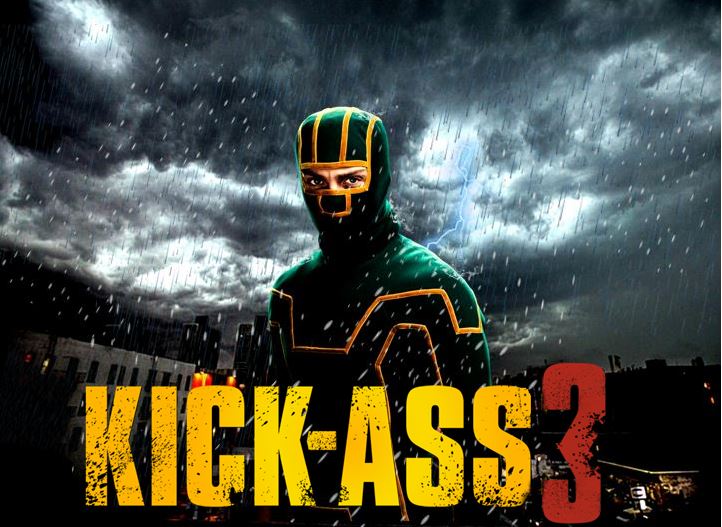 Kick-Ass did amazingly well on the box office, but the same wasn't true for its sequel Kick-Ass 2. The sequel did horribly at the theaters and was generally criticized by audiences and critics alike. It scored a rating of 33% on Rotten Tomatoes and was not a success at all. Given this fact, it seems highly unlikely that the producers would like to go for a third movie. Maybe Kick-Ass was a one hit wonder. Or maybe not. But it is a complex question to answer nonetheless. Mark Miller already has the third book ready and so shooting the third film is only a matter of deciding to do it. Mark Miller always wanted a trilogy, but the box office failure is limiting him from his dream. So it is up to the studio now whether they want to make a Kick-Ass 3. Or maybe we just have to wait till the franchise is bought out by another studio which decides to make a film.
Regardless of what happens, it is going to be interesting to watch. We don't know whether we will see a third movie, but what we do know is that it will always be possible and always be on the cards. It is just a matter of who decides to make it and fulfill Miller's dream.
Read More: Jack Ryan Season 3: Everything you should know!
Kick-Ass 3: Potential Release Date
If Kick-Ass 3 is eventually announced, which seems a bit unlikely given the amount of time that has elapsed since the second installment in the series, the  production would likely take 2 years. So at the very least, we are looking at a late 2023 timeline. That is the best case scenario for the film. The worst case scenario…. well you know already.
Kick-Ass: Where to Watch
While Kick-Ass 3 may not be a sure deal, Kick-Ass is. You may catch the movie by streaming it on the number of OTT platforms that it is available on.
You may catch the movie either on Prime Video or Netflix by using the links given below:
Watch Kick-Ass on Amazon Prime Video
The movie holds a rating of 7.6 out of 10 on IMDb based on user reviews. We highly recommend the film ourselves and would urge you to watch it if you haven't. It is truly a different superhero film and one that you would love.
What do you think about Kick-Ass 3? Do you think it is going to happen? What do you think about the original movies? Are you a fan? Let us know in the comments down below.
Stay tuned in to the Franchise Hound for the latest Entertainment updates. We update our content pretty often and have new content daily. Keep tuned in.