There are a lot of films that set out with an amazing premise and a very well thought out idea, but it often happens that they just don't land on the right foot, owing to the direction and casting. But it is not often that a film disappoints in terms of the plot that it so confidently played upon and built its image upon. And that is certainly less so when it comes to horror movies. This brings me to Last Night in Soho, a horror spectacle with a promising premise, an intelligent idea, and a lot of people rooting for it. Last Night in Soho is quite an interesting movie on paper, and the premise might just make you all the more excited for it. But is the premise the reality of the movie? Does it really live up to the expectations that it set for itself?
How many of you here like horror movies? And how many of you here are fans of psychological thrillers. I bet most of you are. These are two very versatile genres that almost everyone watches, just like comedy. So I suppose you will appreciate a good horror thriller when you see it. Talking about horror, how many of you are fans of time travel? It's certainly an interesting concept, isn't it? And one that finds its roots in Science fiction. But what if I told you that Last Night in Soho is not a science fiction film, yet it manages to have time travel incorporated in the story and be a very large part of it. And that is precisely what makes its premise so interesting and the thing that initially draws you to the film. But does it have any substance? Is it one that you should watch at all? We'll find the answer to that questions in the review. So keep reading on to find out my thoughts on the movie.
Since we are talking about thrillers and horror movies today, I would also like to talk about The Many Saints Of Newark: Plot, Release Date, Latest News, which is the newest crime thriller that is coming up in the continuation of The Sopranos and is a prequel to it. It is one that I highly implore you to visit and give me your thoughts about.
Last Night in Soho: The Review
Last Night in Soho works on a premise that we might have seen in our lives before. Have you ever met someone who was just obsessed with a thing? Or rather, have you ever met someone who was obsessed with the when of something? Might it be a place or a thing or a time in their life? You have, haven't you? The person who might be obsessed with Japan, or the one who wants to go back to the 1900s when life was simple, or the one who remembers the way their city used to be and wants to go back to that. While there are others who hear stories about the past from others and yearn to experience that time in history for themselves. They idealize an image in their head of what that time would've been like, and continually obsess over it. We've all been subject to such delusions.
So how does it all tie into Last Night in Soho? Well, the movie is the story of a young girl Ellie, who is downright obsessed with 60s London and wants to be a part of it. In fact, Ellie has had quite a rough childhood as she lost her mother to suicide, and is now supported by her grandmother. She has had a lot of trauma and is now ultimately obsessed with her London dream. She shows up in fashion as representative of the era, which makes everyone look at her in vain, or sometimes pity. But she doesn't mind, because her dream is everything to her. In fact, she has the disapproval of her own roommate, who doesn't like her cleverness, and sometimes lack thereof.
Ellie's dream comes true when one night she goes to sleep and wakes up in 1960s London in her dream world. Except that it isn't a dream, and it is a different world that she is taken to that feels very much real. She is now a Londoner in the 1960s, where she is a singer and a dancer. Her life as Sandy is exactly what Ellie had been looking for, and it seems that all her aspirations are finally coming true. That is until she realizes what she had gotten herself into, and begins to realize all the problems that she had overlooked and those that were not talked about. She begins to realize that it was a time of social regression and patriarchy and it was a misogynous world. And it is only after she realizes all of this that she begins to regret her demands.
Another movie that I would highly recommend you to read more about is Kate: Reviewing A Pure Action Movie. Kate is a proper action movie that will have you gripping the edge of your seats with its mind blowing action and thrilling sequences. You have to watch this one, and I highly recommend it to fans of the genre.
What's Wrong?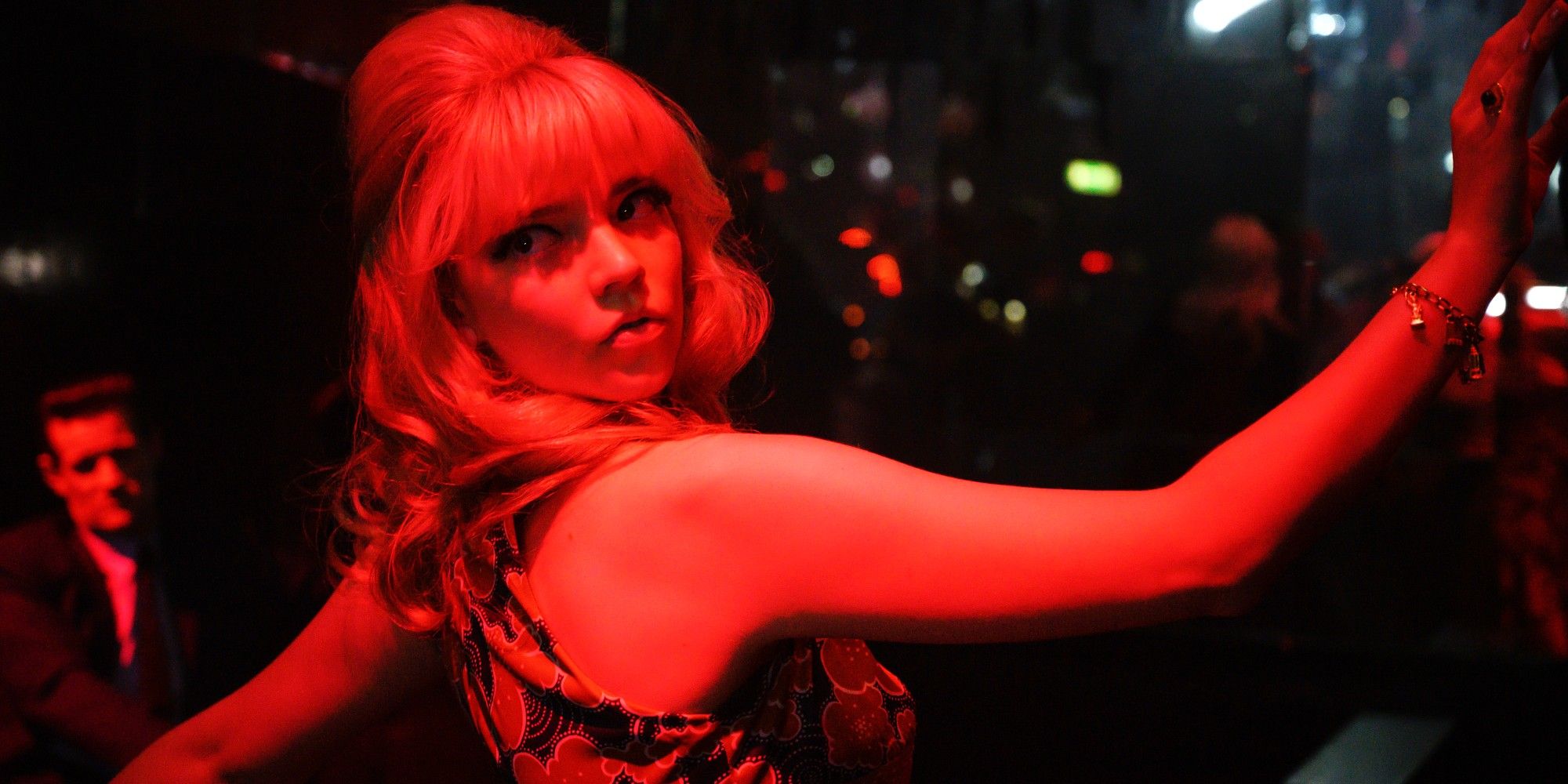 Soon, her dreams begin leaking into her reality and she starts hallucinating and seeing things that aren't real. The dream world starts to blend in with the real world and she has trouble telling the two apart. And that makes for a sometimes very disturbing experience. Those around us cannot understand what she is going through and she can't explain it to them, which annoys them and makes her stay away from them. She starts realizing the gaps in her thinking and how they landed her in this situation, and it makes for a very sad story. The fear and problems that she experiences are nothing short of dark, and just go to show that things aren't always what they seem like and that the grass is always greener on the other side. They say that one should be careful what they wish for because it might just come true. And Last Night in Soho plays exactly on that.
But there is something about all of this that sounds really good on paper but doesn't really work well when it comes to the film. The viewers never really experience a sense of empathy for Ellie, mainly because of the way she has been written. It would have been better if her character was given a little more depth, but it seems Edgar Wright went with a more one dimensional character for this story. It just doesn't feel something one can empathize with, and it certainly doesn't make for a riveting horror film. It is stuck somewhere in between where it is bound to become a very forgettable film with a promising premise and an unfortunately unpromising plot.
Thomasin McKenzie, on the other hand, has done a phenomenal job here. In fact, she might be the strongest point of this film. Her acting and portrayal of Ellie is downright amazing, and the way that she has handled such a monotonous script is nothing short of admirable. She manages to breathe life into a lifeless character and has given her all to the role. I didn't have many expectations from her going into the film, but I was pleasantly surprised by what I saw.
I would also like to take some time to talk about Y: The Last Man Is Nothing You Can Imagine. Y The Last Man is one of the most unexpected movies that you can ever watch, and that is not an exaggeration. So I highly recommend that you watch the movie as early as you possibly can.
Last Night in Soho: Release Date
While some have had a chance to watch the movie, Last Night in Soho isn't openly available to the public yet. However, we do have a theater release date for the movie. The movie publishers have revealed that Last Night in Soho is going to be released to the public on October 29, 2021, and is going to be available in theaters near you. So grab your tickets as soon as you can, because it is going to be a long long queue.
You might also be interested in Captain America 4: Anthony Mackie Takes The Lead
Last Night in Soho: The Verdict
Coming to the verdict for the movie, while I feel that the movie had a very promising premise that it simply did not live up to, I also feel that it is not a terrible movie. It is a weak movie for sure, but it is not a terrible one. There has obviously been a lot of effort that went into this movie and McKenzie just blew it out of the water. It's just something about the plot that doesn't really go down well with me, and that is why I'm going to say that you should only watch it if the premise is something that interests you on its own. So, despite everything, I'm going to give it a lukewarm recommendation.
Last Night in Soho currently holds a rating of 7.3 out of 10 on IMDb, based on multiple user reviews. IMDb is our preferred platform for all movies and TV shows.
You may watch the trailer for Last Night in Soho below:
What are your thoughts on the movie? Are you looking forward to it? Are you going to watch it? Let me know in the comments down below.
Stay tuned in to the Franchise Hound for the latest entertainment updates.