It is not often that we get to talk about a Telugu movie that makes the news around the world. But after a long time today, I got to watch Maha Samudram, a movie that is unlike the stuff we have reviewed in the past and takes us on a journey that is quite different and refreshing. At least that is what the posters and trailer for the movie have tried to make it out to be. But there is a lot to be said about judging a book by its cover. And I would like to say the same for Maha Samudram. I'm not an exclusive fan of Telugu movies, but I do understand the nuances that go into reviewing such a movie.
Maha Samudram is a movie that breaks across genres and even across geographical differences. Rarely do you find a Telugu movie that takes so much inspiration from Bollywood as well as Hollywood. In fact, it is often the other way round. Bollywood takes a lot of inspiration from Telugu movies, and it is often left unattributed. Maha Samudram seeks to change all of that and brings us a drama that surpasses all boundaries and comes forward as a whole that everyone is supposed to enjoy. But how enjoyable is it really? Is it really worth the hype? Is Maha Samudram one you should be watching out for? Or is it one that you can simply pass on? These are the questions that you might be asking. And we are going to answer them all. So keep reading to find out everything.
Read more: Waiting For Another K-Drama "Itaewon Class"?
Maha Samudram: The Review
Maha Samudram is one that will surprise a lot of people. Ajay Bhupathi, after experiencing success with his high highly acclaimed blockbuster RX100 has come back again, and it seemed like he was about to make some waves this time. Maha Samudram seems like the perfect follow up to a project like RX100, and I was appropriately prepared for the same. However, this is only the second movie by the director, so there is a long way to go from here. And that is something you should really consider before you hype this movie up. Because there is a lot going on here that does not meet the eye.
Maha Samudram is a story of two friends who are inseparable at the beginning. They are the definition of best friends. However, they soon begin to have their differences, and then these differences become too much to bear. Arjun (played by Sharwanand) and Vijay (played by Siddharth), the best friends, also have another friend in common, Mahalakshmi (played by Aditi Rao Hydari). While she may just be a friend to Arjun, she is like air to Vijay, who has fallen for her. And this is exactly where the different perspectives on life begin to clash. Arjun is someone who likes to take life as it comes and simply goes with the flow of everything. He doesn't have any impulses and does not feel compelled to run after everything. Vijay, on the other hand, is a go getter, and he will do anything to make money fast, even if it involves getting into dangerous situations.
Soon, this exact predisposition of Vijay gets him into trouble with the city gangster, Dhanunjay, and he is forced to flee. This affects his relationship with Vijaylakshmi, who also has things in her life to deal with. She is the sole earner in her family, and hence under a lot of pressure. The situation with Vijay affects the close bond the trio had, and they all separate over their differences. Years later, like an old Hindi movie, fate brings them all together. But this time, they are not friends. Rather, Arjun is now someone who runs the crime world, and Vijay is out to get him. The tables turn and the two men go against each other in a saga of romance and drama.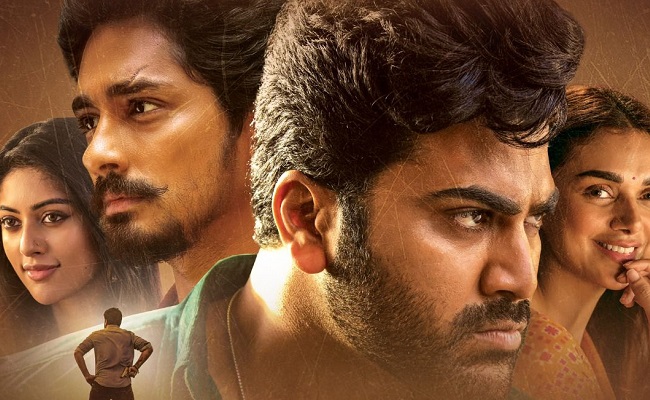 Mahalakshmi finds herself in the midst of everything and her character undergoes transformations of its own. It's a delight to watch the way she evolves with the story. However, that is soon cut short and the story takes bigger turns that seemingly do not involve her. The focus shifts on the conflict between the two friends, and chaos ensues. The story ends in a way one might not expect going into the theater but certainly foresees halfway through the movie.
And that is perhaps the greatest criticisms for this movie. Maha Samudram's reliance on cliches and plot twists makes it a movie that is really not suited to be in a genre that demands suspense and mystery. Watching the movie, you are promised something that is different, but you get more of the same. The movie culminates itself as a coming together of all the cliches that make Bollywood what it is. The plot for the movie turns out to be quite predictable, as opposed to what the trailer makes you think, and you will see every twist and turn in the story long before it comes up. And it is not because of bad writing. Rather, it is because the movie tries out every magic trick in the work, but forgetting to innovate in the process.
Where others have proceeded to call the movie a Maha Fail, there are some that have appreciated it. And there is certainly a lot to appreciate in this movie. The way that the movie has been shot and the way that it has been cast are both things that really need to be appreciated about it. The director might not have made a blockbuster here, but he certainly knew how to cast it. The performance by Siddharth is especially one to watch out for as he gives an amazing portrayal of the young man that he plays. There is certainly nothing he will stop at, and his acting does the talking for him. Aditi Rao Hydari, too, has put in a stellar performance as Vijaylakshmi along with Sharwanand who has been his true self, putting out an amazing performance himself.
All of these are things that need to be appreciated about the movie, but it doesn't take away from the fact that a movie is only as good as the plot that it conveys, and the plot here is more cliched and abysmal than can be said. The movie dramatically fails at one of the most important points, while succeeding at others. The way the movie flows and the story progresses is also really unenjoyable, in addition to the uninteresting and cliched story. And that is the biggest downfall of this movie.
Read more: Pretend It's A City: A Monologue Of Days Past
Maha Samudram: The Verdict
While Maha Samudram is not the worst movie out there, it certainly isn't the best. And in all honesty, unless you're a fan of the actors in the movie, it certainly isn't one that you should be watching. There is a lot of better content out there, and it is waiting for you. So it is really hard for me to recommend this movie, and I would suggest you give this one a pass. That is unless you're a die hard fan of the actors, of course.
Maha Samudram is currently streaming on Netflix. You may check it out at the following link:
Watch Maha Samudram on Netflix
The movie currently holds a rating of 5.1 out of 10 on IMDb, based on reviews by users like you. IMDb is our preferred platform for all movies and TV shows.
You may watch the trailer for Maha Samudram here:
What do you think about the movie? Did you enjoy it? Do you think it deserved the hype? Let me know all your thoughts in the comments down below.
Stay tuned in to the Franchise Hound for the latest entertainment updates.