Maya and the Three is a show that will give you vibes that are so nostalgic that you will find yourself getting flashbacks to your childhood. Telling a really unique story from the perspective of an equally unique protagonist, Maya and the Three manages to be one of the most enthralling animations that we have seen in a long time. Now, readers might be curious as to what exactly we are talking about here. Animations come and go, and Netflix is particularly known for putting out a variety of shows each year. So is this one really that different? Or is it just another addition to the arsenal of shows that Netflix already has under its belt?
Maya and the Three comes at a time when animations like these are getting a second life as people sit inside their homes safe from the pandemic. It is animations like these that can make a lazy afternoon one that is fun and fulfilling. So it makes sense that there is more chatter around them nowadays. Mythology is another strong topic of discussion, and that too is explored here to a fan's delight. So fans of films like Percy Jackson are certainly going to be pleased with what the show has to offer. So what is the show really all about? What is the plot of the show? And is it even worth watching? These are the questions that we will answer today. So without much further ado, let us get right into it.
If Anything Happens I Love You: A Movie You Can't Miss
Maya and the Three: The Review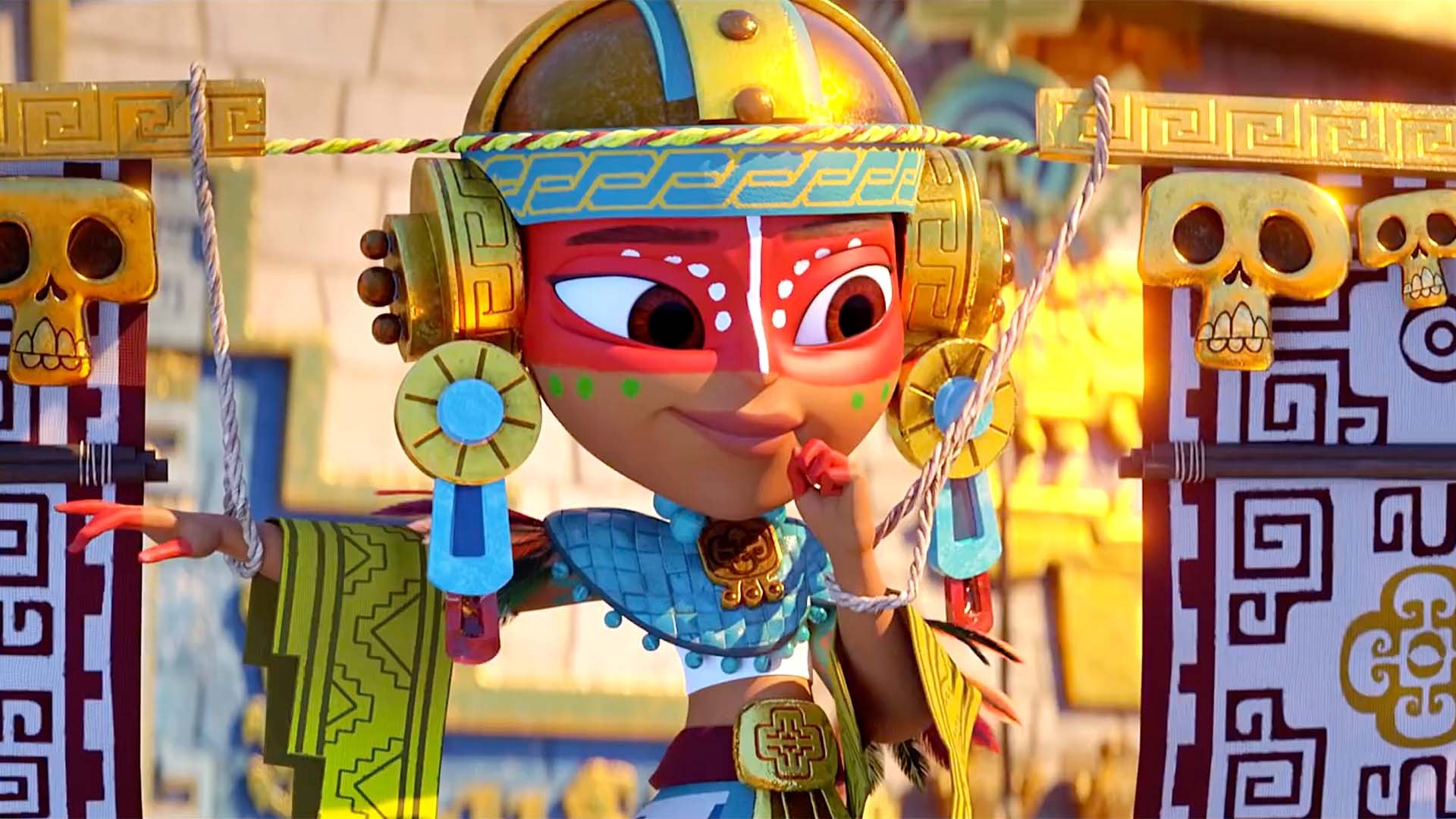 Coming to the review for the show, Maya and the Three is brought to us by the director behind Book of Life, Jorge R. Gutiérrez, who has established a great name for himself ever since his last outing. The director was slated to bring out something really phenomenal, and it seems that he put all his efforts in to Maya and the Three. The show centers itself around Princess Maya, who is a monarch in a MesoAmerican kingdom, and has more than destiny running after her. Played by Zoe Saldana, Maya has a lot riding on her, and the God of War Lord Mictlan, played by Alfred Molina here, wants her all for himself so that he can sacrifice her and gain the power within her. The god gives the princess two options, to either surrender or to face the destruction of her whole kingdom.
In a series of cliches, our princess decides that she simply isn't going to give up her kingdom to anyone, and that she doesn't want to give herself up and make the God of War rise in power either. She sets off trying to find the third way and searches for the three warriors who have established their greatness all across the kingdom and can help her escape the clutches of death. Things, however, are not so simple. Maya finds that each of these warriors are carrying their own emotional baggage, and it is not going to be so easy to get a hold of them. In a series of repetitive sequences where Maya convinces each of the warriors to join her, Maya assembles her personal team, and hence the title Maya and the Three.
On the surface, the story of the show is quite a neat one and you would be hard pressed to find problems with it. There is also the liberal use of animation and art here that is really hard to miss. The show introduces a variety of different environments and different landscapes for the viewers to admire. That is something that some viewers really care about, and every encounter feels fresh regardless of it having the same formula at its core. But that is really nitpicking on the show, because the average viewer really isn't going to mind.
The animation and direction here is absolutely top notch, and there is nothing to be complained about. Rather, the design that the team has decided on here is somewhat neat and really expresses the theme of the story really well. The art form is also quite derivative and will remind you of old movies, but one that you would really enjoy. So there is really nothing to complain about on that part. The voice actors, too, have done quite an amazing job, and I really liked the way they made the show so full of life, and in a word, animated.
The story might be a little slow for some people in the beginning, but it soon picks up the pace and gets really interesting. But I guess that is the case for a lot of shows right now. So there is that. Other than that, you will find yourself hard pressed to find major things that are wrong with the show.
Santa Clarita Diet Season 4: Renewed Or Canceled?
Maya and the Three: Final Words
With that, we come to the end of our review for this neat little animation that has been brought to us in an era where any animation is welcome and any form of escapism is like a drug. I personally really like Maya and the Three, and I do think that it is a suitable watch for young audiences. There is not much to be said about the story without giving too much away, so I would recommend that you experience it for yourself and watch the show in all its glory. I highly recommend the show.
Maya and the Three is currently streaming on Netflix. You may check it out at the following link:
Watch Maya and the Three on Netflix
The show currently holds a rating of 8.2 out of 10 on IMDb, based on multiple user reviews. IMDb is our preferred platform for all movies and TV shows.
You may watch the trailer for the show here:
What are your thoughts about the show? Did you enjoy it? Let me know your thoughts in the comments down below.
Stay tuned in to the Franchise Hound for the latest entertainment updates.