It has been quite a while since we talked about Mimi on our blog. The movie, when it was announced, showed a lot of promise and we really like the entire premise of the movie. We really liked the way the movie tackled issues that are considered taboo in our country. It is one that holds the potential to bring about great change in the society, through the medium of moving pictures. And today, we are back to talk about Mimi again with our Mimi movie review. This time, the movie is well past its release date and we are here to share our thoughts on the movie. What we liked, what we didn't like, what we think could have been done better, and all that little stuff. All the stuff that makes a movie what it is, and gives it character.
The plot for the movie is quite dramatic and will surely have you wondering about the tpy of movie that it is. Mimi follows Kriti Sanon and her character on a journey of surrogacy. The movie shapes up as Kriti's character is approached by Pankaj Tripathi for carrying a surrogate baby for an American couple going by the names of Summer and John. When Mimi, Kriti's character finds out that she doesn't have to be there for the conception and would be paid 20 lakh rupees, she agrees. However, that is not the full story of the movie, and there is a lot to talk about. There have also been some things that we didn't expect from the movie, but where it pleasantly surprised us. So without much further discussion, let us get right into the Mimi Movie Review.
If you are not aware about the movie, you might want to check out our coverage on the movie release first. We have gone in depth about the movie in the article and there are no spoilers. So it is probably a worthwhile read if you haven't watched the movie yet. You may read it at Mimi Trailer: Kriti Sanon's Unexpected Journey
Mimi Movie Review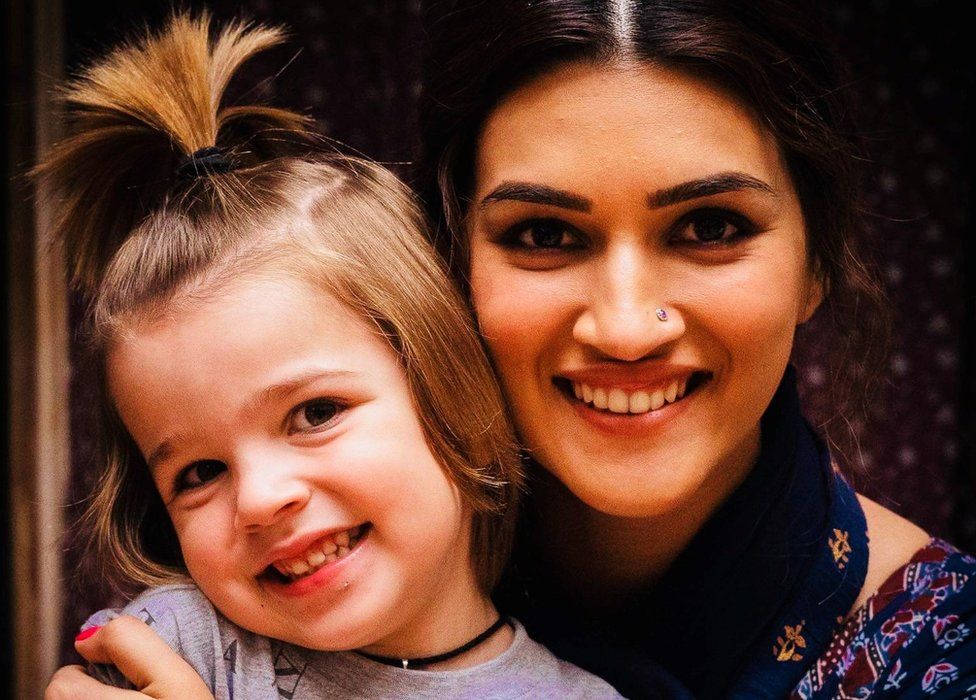 Mimi begins on a very simple premise that gets complicated as it goes on. In the beginning of the story, it is just a matter of carrying the baby for the American couple and then Mimi can go her own way with the money the couple is going to pay her. However, the couple decide to give up the baby and now Mimi is stuck in a bad situation. Pankaj Tripathi now comes to the rescue and pretends to be her husband, to save face in society, and at home.
Mimi turns out to be quite a different film than what we expected. While we expected the film to be rife with humor, given the disposition of the film makers at play, Mimi decides to take a different route with its storytelling. Mimi is a movie that focuses more on playing out the emotions of the characters and paints an emotional landscape rather than drowning its audience in sheer laughter. That is not to say that the movie lacks humor. In fact, it contains just the appropriate amount of humor that needed to be in the movie. It plays everything out in a well balanced manner and will tug on your heartstrings like it is playing the Sitar.
You might also be interested in Lupin III: The Castle of Cagliostro: Released In 4K
Music and Cast
Talking of Sitar, the movie boasts and excellent background score, all credit to the legendary A.R. Rehman. The score really lends to the movie and will draw you into the actual scenes. We really appreciate the amount of attention to detail here, which is usually lacking in most Indian movies. With all the direction and art work in place, Mimi feels like a fresh breath of air for the Indian cinema, and had us quite satisfied by the end of it. We didn't feel like complaining too much about the movie, and sometimes, that is more than enough.
The cast here, too, has done a phenomenal job. We really appreciate the way Kriti Sanon has stepped up to her role here. She plays the role of Mimi with utmost elegance and an energy that we doubt anyone else could muster. She manages to paint an accurate picture of our main character Mimi and will enthrall viewers with her best performance yet. Really, props to the actress for her role.
On the other side, Pankaj Tripathi, being his usual self, just charms his way through everything. His dry humor and expression never ceases to make one feel at ease. And his presence in the film is a very reassuring one. We love the way he has acted here, showing his versatility as an actor. And we will expect more such stellar performances from him.
Read more: Brand New Cherry Flavor: A Brand New Thriller
Mimi Movie Review: The Verdict
Now comes the part everyone has been waiting for. So should you watch Mimi? Well, have you been reading the review so far? If you did, you probably already know the answer. If you didn't, you should probably go back and read it. In any case, Mimi is a must watch. We highly recommend the movie and we cannot stress its importance enough, especially when it comes to Hindi cinema. Definitely one that you need to watch.
Mimi is currently streaming on Netflix. You may watch it by clicking the link below:
Mimi currently holds a rating of 8.2 out of 10 on IMDb, based on multiple user reviews. IMDb is our preferred platform for all movies and TV shows.
What are your thoughts on the movie? Did you like it? What did you think about the social issues that this movie represents in context to adoption and surrogacy? Let us know in the comments down below.
Stay tuned in to the Franchise Hound for the latest entertainment updates.