Muhammad Ali is a name that needs no introduction. But maybe Cassius Clay is. And that is the man who Ali once was. And perhaps who you think the film One Night In Miami would be about. But no, it's about much more. It's about Jim Brown, Malcolm X and Sam Cooke too. It is a piece of rewritten history waiting to be watched by millions across the world. If that doesn't have you intrigued, I don't know what will. That is more than what most movies can even think of offering.
One Night In Miami is one of the most exciting films that I have had the pleasure of watching in a long time, and a lot of it is owed to the legendary people that the movie centers itself around. These are all people who have accomplished a lot and brought about change in the world, and a movie that puts them all together is just something that seems like such a tall order. So is it really able to meet all the expectations that it sets with its premise? Will it cross the bar for movies like it that came before it? Keep reading the full One Night in Miami review to find out.
Read more: Wizards: Tales Of Arcadia Canceled?
One Night In Miami: The Review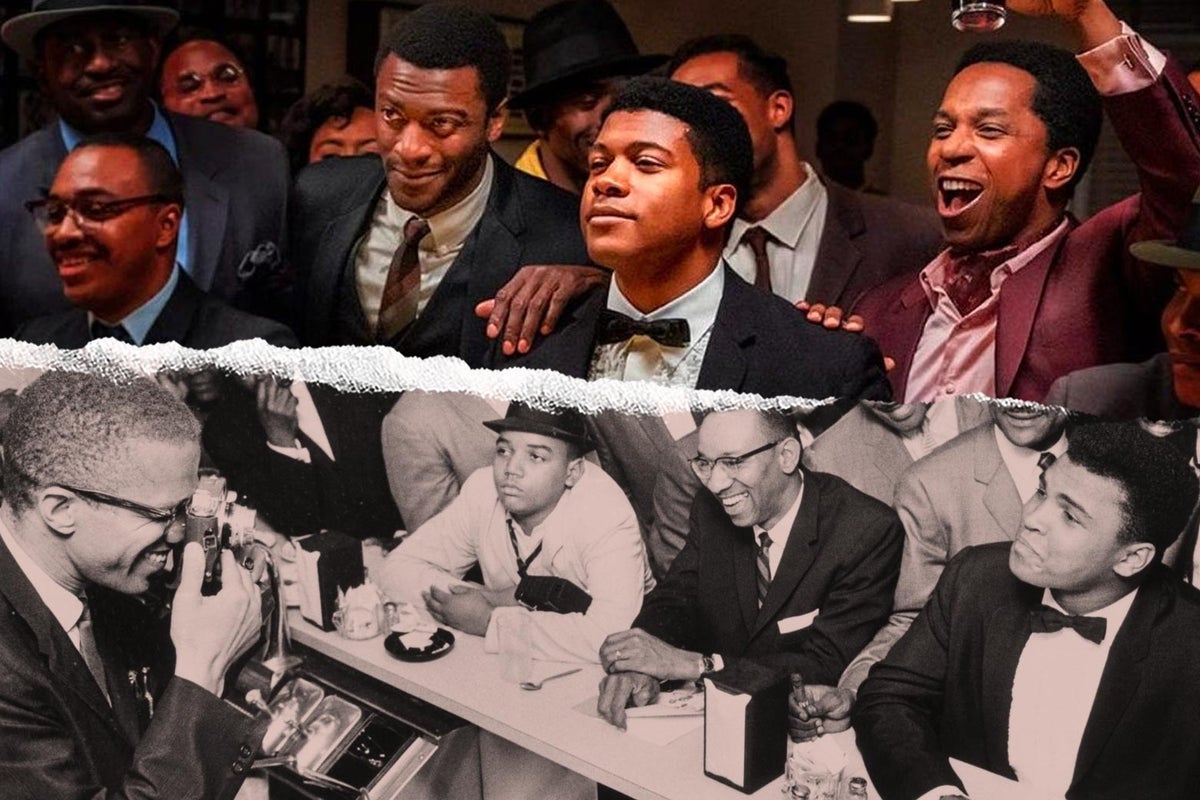 Directed by Regina King, One Night In Miami is a fictionalised historical film that takes us back to the sixties and into the world of Black men who included historical figures like Muhammad Ali and Malcolm X. It is based on the play by Kemp Peppers and adapts the theatrical style to the film. On The 25th of February, 1964, Muhammad Ali, who then went by the name of Cassius Clay, made history by beating Sonny Liston in a heavyweight boxing match, claiming the title of the champion for himself, and marking his place in history. This was a big moment for the man, whose career then flew itself to great heights, the extent of which we all know today. The stuff of legends, to say the least.
One Night In Miami takes us back to that era and shows us a fictionalized version of what happened before and after that historical fight. It is an account of the interactions between historical figures Cassius Clay, Malcolm X, Sam Cooke, and Jim Brown as they are imagined during that time. Representatives of Black America, these are the people who got together and challenged each other to grow and had big conversations during that time. They were the future, and put each other to that task by talking, bantering, and just spending time together.
This is exactly what the movie explores, as it shows us the conversations and debates and conflicts that happened between these influential men in a raw and natural manner. It does not concern itself with all that is happening outside the scope of all this and really shows us four free men discussing their plans to revolutionize America. And these sequences are really the strong point of the movie because they show a world that is relatively unknown. A world where these four people can come together and discuss their ideas without fear.
But that is not really the extent of the movie. Perhaps one of the most exciting aspects is the actual change that these men do bring to the society, and the way they go about it. It is something to really admire and to respect. I was highly impressed by the way Regina King has brought it all onto the screen. It feels authentic and powerful, and never ceases to fall flat, just like the real people who are behind it. It is somewhat of a tall order to fulfill, and the team has done it here wonderfully.
Each character here is given their own space and their platform, and it never feels like there is favoritism among the characters. The actors performing the characters are simply marvelous in their roles, as they have gone above and beyond to give a performance that is truly worthy of such a movie. Muhammad Ali played himself in The Greatest, and that is as much of a challenge as an actor can get in terms of those who came before him. One simply cannot beat the original, but Eli Goree comes pretty close.
The concept of Black America and Black lives is explored in an unapologetic and authentic manner here and leaves little to be desired. It tackles all the issues head on, even when the characters or historical figures at play might disagree with them. Perhaps one of the most important moments was Cassius Clay's conversion to Muhammad Ali, as he became a leading ambassador of the Nation of Islam at the time. And that has also been covered with great taste here.
Overall, One Night in Miami is a movie that doesn't really talk about what should have happened or takes you to a destination. What it does show, however, is an imagined version of the events at a time in history that is going to be remembered forever in the history books. It tells a lot of stories, shows the power of interaction between these seemingly normal friends who happen to be influential figures, and makes a mark in the world of historical fiction. It never ceases to get a laugh out of you or to make you emotional at the moments that require it.
The sheer amount of history here is breathtaking, and the way that the film brings together four influential people at a particular time in history, and nails it, is something that really needs to be admired. Needless to say, I am more than impressed with it and don't really have much to complain about.
Read more: Earthworm Jim: Coming Back Again
One Night In Miami: The Verdict
This should not even be a question. Definitely watch it! One Night In Miami is an experience that ought not to be missed, and more so for the people who are affected by the events that the movie talks about. It is a delight to watch and will have you thinking for a long time. It has my wholehearted recommendation.
One Night In Miami is currently available on Amazon Prime Video. Check it out at the link below:
Watch One Night In Miami on Amazon Prime Video
The movie currently holds a rating of 7.1 out of 10 on IMDb, based on multiple user reviews. IMDb is our preferred platform for all movies and TV shows.
You may watch the trailer for the film down below:
What do you think about the movie? Have you watched it? Let me know in the comments down below.
Stay tuned in to the Franchise Hound for the latest entertainment updates.