What if one day you woke up and discovered that you lost your ability to see? Your ability to see? Your ability to take in the world? The thing that made you appreciate beauty? What would your thoughts be? It's an interesting thing to think about. And one that really twists my brain in ways unimaginable and unpredictable. I'm sure the same sort of thoughts might be going through your mind right now. It's just something that really grinds my gears too. And the fact that this is the base premise of the new movie Sightless on Netflix makes it an even more interesting movie. If you are into movies with a sense of emotionality and a dark theme to them, then you might want to read the full Sightless Netflix movie review, because it is right up your alley.
Sightless is a movie centered around the main character Ellen Ashland, who is played by the magnificent Madelaine Petsch from Riverdale. Ellen wakes up one day to discover that her sight is gone. She cannot see anymore and is informed that she lost her sight in a violent attack. And now, she must adjust to her new life. A life where she doesn't have her sight and cannot perceive the world around her the way she used to. She doesn't know why it happened to her,  and she doesn't understand what is happening around her and if it is even real or not. She doesn't know who to trust and finds herself in a helpless position. And Sightless shows her journey as she navigates her new reality, and tries to get to the bottom of everything while adjusting to her new way of living. It is quite an interesting premise, so keep reading to find out whether it is worth your time.
Bull Season 5: Renewal, Plot, All We Know is another show that you might be interested in if you are a fan of courtroom dramas and psychological thrillers. It has somewhat of controversy swirling around it right now, which makes it even more popular. Check out the article to find out more.
Sightless Netflix Review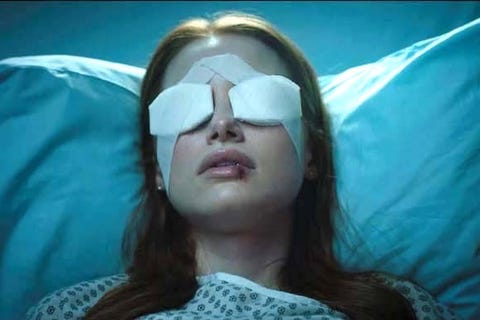 The movie starts off on quite a grim note. We can see our protagonist Ellen going towards her balcony in an attempt to escape her current predicament. She crawls over the railing. And then she falls. Which is a great way to start off a movie as we are quickly taken back to one month earlier when the events that made her as this transpired. We see her waking up in a hospital, where she is being taken care of after she was apparently attacked in a vicious manner, and lost her sight. She tries to remember the events that led up to the attack and to remember the details of everything and keeps getting confused. Eventually, the bad news is revealed to her. The attack has left her optic nerve damaged and she has lost her sight.
Later, she wakes up in an unknown place, again trying to remember how she got there but in complete vain. There, she meets her new companion, Clayton, who has vowed to help her transition back to life, as he is someone who specialized in bringing the sightless back to everyday life. Under the care of Clayton, Ellen discovers her newfound sense of perception through the other senses. She starts noticing things that she never noticed before, and her sense of perception is quite heightened. She starts wondering why all of it happened to her, and whether it was because of the shady business her ex husband conducted, or something else. She goes crazy pondering over the details and getting nowhere.
Another series I would recommend you to watch is Flesh And Blood Season 2: Release Date, Cast and Latest News. Similar to Sightless, Flesh and Blood is centered around a rather plain looking but dark reality. It is one that I personally loved and only runs across four episodes. So I would highly recommend you to check it out.
Sightless Netflix: What's Good?
Ultimately, the events transpire from the beginning of the story, and Ellen takes the jump, in a crazy attempt to find out all that she wanted to know, and discovers a lot along the way. It is a way of building suspense for the movie and keeping the audience in the dark for as long as possible. And I absolutely loved it.
I loved the movie the movie ebbed and flowed. And Ellen's story is one that is worth watching. The real human emotions that she experiences and the depth of her misery are at full display here, and it makes for a very emotional watch, in addition to an interesting one. I particularly related to her search for answers, and for things to make sense. It is human nature, after all, to find out what caused everything, and the way things are.
The direction too, is quite strong, as the film makes rightful use of small spaces and dark themes, paired with a sense of sensory deprivation, to give the viewer a proper look at how things really are for Ellen, and really draws you into the story.
Madelaine Petsch's acting too is just on another level, and the way she portrays Ellen is simply something that you cannot expect from anyone else. The entire range of emotions that she expresses as Ellen is something to behold, and makes the movie what it is. Without Petsch playing Ellen, Sightless simply wouldn't have been the movie that it is. And that is a fact.
Sightless messes with the viewer's brain as much as Ellen is messed up by her circumstances. The way that the movie takes us from the end of the line, back to where it started, and tells the story of Ellen's descent into sightlessness is something to behold. And it really messes with our brains because it leaves us as confused as her as to what happened. After being shoved right into the story, we have to put the puzzle together ourselves and to see where Ellen is coming from. Nothing is served on a platter, and that is something to appreciate in any movie.
You might also be interested in Resident Evil: Welcome To Raccoon City Release Date, Plot, and All You Need To Know. The new Resident Evil movie is a reboot of the franchise and promises to be the film that the gamers always wanted it to be. So it is going to be quite interesting to see what the new production team brings to the table. Read on to find out more.
Sightless Netflix Movie: The Verdict
Sightless Netflix debut saw a large number of people watching the movie, but the movie didn't quite take off well with the critics as well as casual audiences. Mostly because of the dark and grim story that it tells shamelessly without a sense of friendliness. But that doesn't have to be its downfall. Instead, it is one of the things that makes it original and gives it its due character. It is something to admire and appreciate in my opinion, and I absolutely loved it. If you are somewhat of an empath and love watching such surreal movies, I would highly recommend Sightless on Netflix to you. It is well worth watching, and I'm positive that you would like it.
Sightless currently holds a rating of 5.5 out of 10 on IMDb, based on multiple user reviews. IMDb is our preferred platform for all movies and TV shows.
You may watch the Sightless Netflix trailer down below:
What do you think about the movie? Are you intrigued by it? Are you going to watch it? Let me know in the comments down below.
Stay tuned in to the Franchise Hound for the latest entertainment updates.