If you're someone who loves tactical games or is a fan of old favorites, then I'm sure that World of Tanks is definitely on your list. The game takes care of every type of gamer and introduces them to a world that is challenging, tough, and entertaining all at the same time. The game pushes you into a scenario similar to a war where you have to battle it out with other tanks to establish your supremacy over the other tanks. This is quite an amazing concept in and of itself. And I am someone who is personally really big on this concept. And this is also the reason I am really positive about the upcoming game Tank Company.
If you're anything like me, then you are simply going to love what the new game Tank Company is bringing to the table. Looking like a mobile game that is definitely taking a lot of inspiration from the style and gameplay of World of Tanks, Tank Company is a multiplayer title that will indulge you in a degree of realism that you simply would never experience with any other game. Be it the old style of the game that is very reflective of the era that it is set in or be it the sheer visuals. The game has it all. And that makes it really special for everyone who is a fan of such tank games.
Now that we have talked about how significant Tank Company is going to be, let us find out a little more about it.
Tank Company: About The Game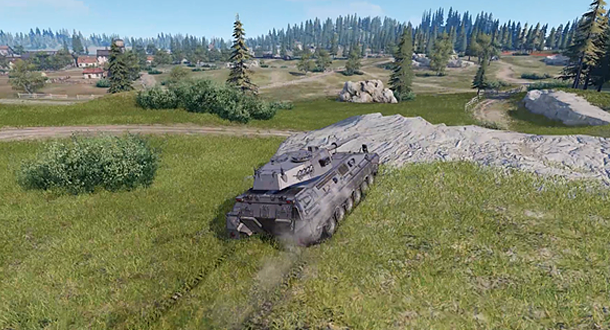 When it comes to Tank Company, the game is as strategic and as tactical as they come. It is a game that puts fifteen players on each side and puts them against each other in a battle of tanks. The tanks on duty here can belong to a number of eras including the World War 2 as well as the Cold War.  This lends a sense of realism to the game and is one of the biggest winning points that I can personally think of. In addition to this, the game also has some genre defining upgrade systems set in place that it will use to customize its tanks in addition to what we have already seen in the industry.
The game was announced by mobile developer NetEase a while ago. The mobile developer is also famous for other Android titles and has in fact been linked with the upcoming Harry Potter game. That should make you beware of the company as it is a big force in the industry and one to be reckoned with. That is why Tank Company is looking to be such a game changer in my opinion. It is the sheer expertise of those behind the cockpit here that will ultimately drive the game to glory. The game is going to feature a lot of different environments and keep things interesting by mixing things up every once in a while.
It is also possible to give your tanks a personal touch in the game as you would be able to customize them with your visuals and different decals that can show off just who you are to others in the game that would either be playing with you or against you.
Read more:Arena Breakout: Finally Coming To China
Tank Company: Release Date
Now, this is one part that every one of you has been waiting for. While news about the upcoming Tank Company has traveled fast and wide, there is still no word on the release date for the game. We don't know when the game is going to be completed and when it is going to come out. What we can hope for is a release that is later this year or early in 2023. Other than that, all prospects seem a little weak. So it is going to be a long wait if you want to get your hands on this tank game. One thing is for sure, though, and that is that the game will break some really big milestones.
Read more: XCOM Legends: Is It Ever Coming Out?
Tank Company: Final Words
With that, we come to the end of our discussion today about Tank Company. The game is looking to be a fine addition to the ever growing arsenal of Android games that are available to us today. It seems that NetEase is taking its time with the game and that is something we will just have to accept. Hopefully, we will be able to see it in action soon.
You may check out the game here:
You may check out the gameplay here:
What do you think about the game? Let me know in the comments down below.
Stay tuned in to the Franchise Hound for the latest gaming updates.