The Chi has had quite a stellar run so far, and fans have thoroughly enjoyed everything the show has had to offer. The show, which centers around the residents of a neighborhood in Chicago with less than optimal conditions, has developed into quite an elaborate one, with different storylines and a lot of character development taking place. It has also been a favorite of the fans and has continued to please us with its consistency and amazing performances. The Chi Season 4 ended a little over a week ago and was met with quite a warm reception. But is the show ever going to return in the midst of these tough times, with a modest viewership? That is a question that most fans are asking. And that is what we are going to answer today, and not keep you in the dark for too long.
You might also be interested in Good Girls Season 4: Will It Be Renewed? Good Girls is one of those shows that quickly grew into a phenomenon and had a loyal fan following. However, given the shady circumstances surrounding season 4, is it going to be renewed? Will we ever see another episode of our beloved show? Read more to find out all that you need to know.
The Chi Season 4: About the Show
The Chi centers itself around a group of people residing in the southern side of Chicago and brought together by circumstances. It is certainly a tough life, and nothing is guaranteed. Things go sour when a murder happens in their area, and they have to deal with it. The show quickly transpired into a close-knit drama involving a lot of people and their lives, and a lot of love, relationships, crime, and hardship followed. Everyone contributed to the community in some way, and that is what made the show what it is. Gangsters, murderers, lovers, cops, and a general sense of chaos. Which is exactly what we love to see.
Talking about close knit dramas, a TV show that I want to recommend to you is Greenleaf Season 5: Is It The End? Greenleaf is again a drama that revolves around family, and deals with the shady happenings and problems that take place along with the subtle politics of the Greenleaf family. I would highly recommend you to check out the show if you're a fan of dramas revolving around family and community. Also, find out whether the show is going to be renewed for a sixth season at the link above.
The Chi Season 4: Is It Renewed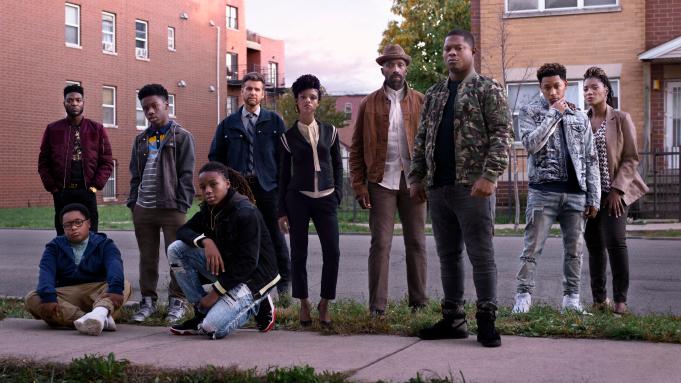 Now, this is the part where we break the news to you. The Chi is a show that has received a lot of love and acceptance from the viewers. It is a really nice show with a nice sense of community and makes everyone feel at home. It has also been commended for its consistency and its ability to make the viewer have an exhilarating experience as it is a roller coaster of emotions and keeps the viewers on their feet. The initial season of the show met with widespread critical acclaim and had generally warm responses from the general audience. This didn't let the showrunners settle into complacency though, as the following seasons, each time, the show came back stronger than ever before, with much more elaborate and thought out plots.
With each season, the viewership for The Chi grew. And by Season 4, it became one of the best shows on Showtime, raking in viewership of more than 4 million each week, and getting over 3 hundred thousand viewers each time it was on the air. It has been killing it in terms of viewership and is expected to continue with that pattern.
Another TV show that you might be interested in is Search Party Season 4: The Review. With a strong backstory, Search Party is a TV show that manages to blend together comedy and horror into one single package. The fourth and latest season of the show centers around Dory, as she deals with being kept in solitary confinement, while looking back at her past, and the choices that she made.
What Lena Waite Had To Say
And all that started to make sense when Lena Waite streamed live on her Instagram. In her live stream, she advertised the show to thousands of people, and said, "the season is approaching, it is over, it is written." This confirmed all rumors about the renewal of The Chi Season 4. She also added, "It's been a voyage, we have learned a great deal, we grow up a great deal. And we did grow up with all these personalities.  We yell at them. With them, we did stupid things. From children to youngsters and young women we see them grow and mature." This actually made a lot of sense, as she thanked the viewers for their continued support and love for the show.
In the same live stream, she also stated that she was really grateful for the viewers, and that season 5 was coming. So at the end of the day, the renewal for The Chi season 5 is confirmed, and the show will be hitting the platform sometime in 2022, given the current scenario, and the fact that The Chi Season 4 just came out some time ago.
Also read more about Rebecca Hall Iron Man 3 Role Wasn't The Original One. Marvel is known for making blockbuster movies that rake in millions at the theaters. But this one time with Iron Man 3, they did Rebecca Hall wrong. Read the full story to find out all the controversy surrounding Hall's role in the movie.
The Chi Season 4: Final Words
With that, I'm really happy to say that I'm so excited for the return of the Chi, and highly anticipate what the show might hold for us in the future. It is definitely going to be a journey, and I'm really looking forward to it.
The Chi is currently streaming on Showtime. You may check out the following link:
The Chi currently holds a rating of 7.4 out of 10 on IMDb, based on multiple user reviews. IMDb is our preferred platform for all movies and TV shows.
You may watch the trailer for the show down below:
What do you think about the Chi Season 4? Did you like it? What are your hopes for the fifth season? Let me know in the comments down below.
Stay tuned in to the Franchise Hound for the latest entertainment updates.