Many of us here are fans of horrors and psychological thrillers. And many of us love dark stuff and other films that make us shudder. It is quite natural, as we tend to enjoy that which takes us out of the loop and makes us experience something new. I also enjoy it a lot. Because horror takes me to another place in my mind that is really out of the normal and makes me experience the thrill and joy that comes with dangerous situations. And the same is the case with The Old Ways. The Old Ways is an old school horror film with a lot of new elements. It is a film based on exorcism and demonic possession and will appeal to those who are already fans of this genre. And it does so in stellar fashion too! And that is why I'm so excited to review this film today. The Old Ways is something I haven't seen in a long time, and it is a pleasure to talk about it.
Are you into intricate productions? Or are you more of a person that enjoys big budget movies with extravagant casting and big sets? If you're more of the former, then this is the right movie for you, as it blends a small scale production with an intricate casting as well as simple environments and small places. It does not go overboard with its production and keeps it as compact as possible, possibly adding to the horror factor of the movie.  It doesn't also try to tell an elaborate story with a lot of setup or a lot of jargon. It is simply just about the matter at hand, and while that may put off some viewers, it is a boon to those of us who are looking for something exactly like this. So without much further discussion, let us get right into the review for The Old Ways.
Since you're reading about the Old Ways, I take it that you're a fan of horror and psychological thrillers. In that case, I have another recommendation for you. Read all about The Night House: A Dark Psychological Horror That Will Petrify You. It is a movie that will literally shake you down to the core and hardcore fans like you would appreciate. It is my strong recommendation for you to check it out right away.
The Old Ways: The Review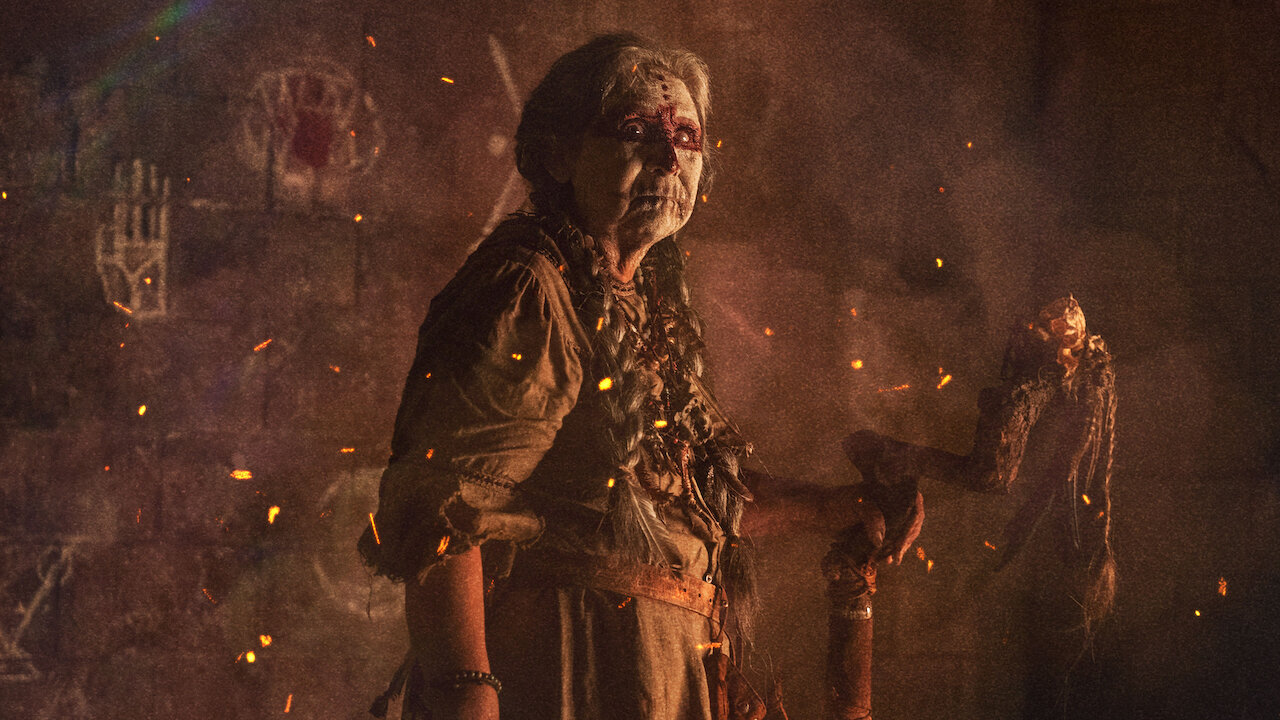 The Old Ways is a movie that is going to please some and disappoint others. As I said before, it is an intricate production that focuses on living in the moment rather than setting up the future. And that is something I personally really like about it. And I'm sure a lot of other people would too, especially those who are fans of the horror genre. And those who appreciate a lot of gore are going to find it quite appeasing too, because it just gets down to business.
The movie starts off as our character Cristina is exploring a cave on her assignment to Veracruz in Mexico. However, things soon go south as she is kidnapped and taken prisoner by someone or something there. And that is where the real fun starts.
It is soon revealed that Cristina is suspected of being possessed by a demonic presence, and hence, has been kidnapped by the witch, who is supposedly an expert in performing exorcisms. And that is exactly what she intends to do with Cristina, to pull the demon out of her. And it turns into a huge quest for Cristina to survive, to battle the actual inner demons that push her down and let her from rising up. And that is the main premise of the movie really.
The Old Ways is a horror fest for those who are fans of the horror genre, and appreciate visual imagery and creepy situations. Dark creatures and snakes are something of a staple here, and people who are into that stuff will surely enjoy the hissing and slithering that they do.
While violence isn't a big part of the movie, it still has a lot of chill inducing scenes that will shake you right down to the bone. As a horror movie, the violence could have been a bit more gruesome and terrifying, but that is what you really get with a low budget production. The use of makeup and animation is good though, so that helps.
Other than that, the movie could have been a bit longer. Despite it being a strong point, getting straight into the stuff gets boring after a certain point, and a little character development and attention to the plot would have been appreciated.
You might also be interested in knowing more about Outer Banks Season 3: Plot, Release Date, Cast, All You Need To Know
The Old Ways: Verdict
In many ways, The Old Ways is the perfect horror movie for a lot of enthusiasts. It downplays the goodness of the characters and highlights the creepy and terrifying in all the right ways to stimulate that inner demon inside everyone. Fans of demonic possession and exorcisms are surely going to love it and appreciate it for what it is, while the rest of us are going to appreciate it for the sense of horror and dread that it offers. I really appreciate what the team has achieved here on a tight budget, and I have to give it to them. However, The Old Ways is not a film that is going to appeal to everyone, and that is something that you really have to consider before watching it. It is made for a certain subset of people and is going to appeal to them. So it has my conditional recommendation and should only be watched if you are a fan of hardcore horror movies.
The Old Ways is currently streaming on Netflix. You may watch it at the following link:
The Old Ways currently holds a rating of 5.4 out of 10 on IMDb, based on multiple user reviews. IMDb is our preferred platform for all movies and TV shows.
You may watch the trailer for the Old Ways below:
What are your thoughts on the Old Ways? Did you like it? Did you enjoy the horror aspects of it? Let me know in the comments down below.
Stay tuned in to the Franchise Hound for the latest entertainment updates.