If you're anything like me, you have a soft spot for tactical shooters like CSGO and Valorant. In fact, this is one genre of games that is highly popular in Asian countries and everyone around the world can just get onto them and have fun for as long as they want. They are simple and really fun, and that is a big big reason that so many people can simply get onto them and enjoy the benefits of the low entry barrier. Have you ever played a tactical shooter? Don't you feel the same way? I definitely do, and I feel that this is one genre that is never going to die out from the gaming world. To support my theory, I am going to talk about the upcoming mobile game War In Arms: Prime Forces.
If you love playing mobile games, then you must be aware that there are so many games out there that simply don't live up to the standards that have been set by games on other platforms. Sure, there is the odd port here and there that directly lifts elements and gameplay from the PC or console version of the game, but the majority of games are made by people who only develop mobile games and the quality suffers. Fortunately, that doesn't seem to be the case with War In Arms: Prime Forces, or at least that is what the teaser trailer has made me think. One thing is for sure, and that is that the game is going to make some noise once it is released, and might just chance the face of tactical shooters in mobile gaming.
War In Arms Prime Forces: About The Game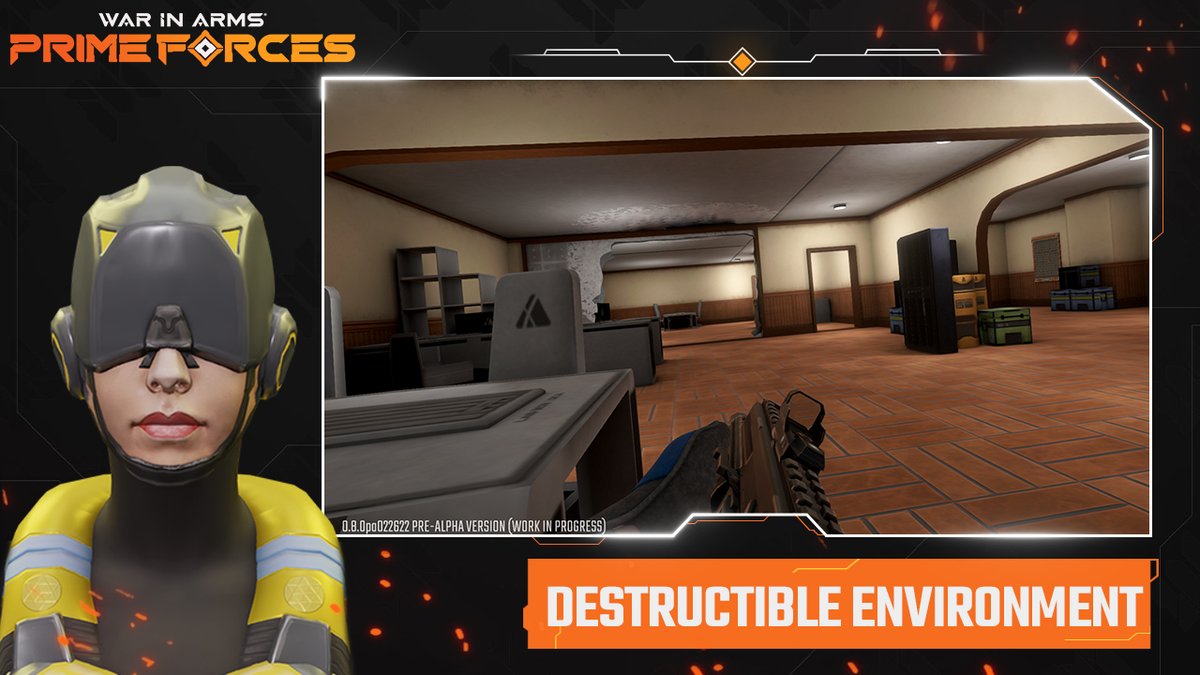 When we talk about War In Arms: Prime Forces, a lot of comparisons with other tactical shooters come into mind. The game is a 5v5 shooter that focuses on close range combat and nifty movement to facilitate a really fluid and competitive playing experience. Now this is not unlike Counter Strike games or Valorant at all. However, something about the teaser trailer just hits different about this game and it becomes clear that this is not just your run of the mill tactical shooter. The players get a chance to play as a part of a Special Forces Unit (SFU) and to participate in different operations across different maps, ranging from the normal unranked CQB modes to ranked ones to simple bomb defusal operations. The list is extensive and offers something for everyone.
Again, the modes are pretty much the usual stuff when it comes to tactical shooters. But it remains to be seen how War In Arms: Prime Forces implements all of this in a manner that runs smoothly on mobile while providing a fresh experience that we haven't played before. If this game turns out to be a clone of Valorant or Counter Strike, there is going to be immeasurable disappointment from the fans. I feel the same way, and I have really high hopes that the developers will develop good controls, graphics, and a fluid game experience for all of us to enjoy.
Read more: Plants Vs Zombies 3: A Resurrection
War In Arms: Prime Forces Release Date
When it comes to the release date for War In Arms: Prime Forces, the developers had earlier stated that the game would release sometime in early 2022. However, we all know that clearly isn't the case and that the game is still not available for all to play. But there is a silver lining here though. The game has been released for an early alpha test and there are some players around the world who have access to it. These players are really limited in number, however, and the game is not available to even test in most regions yet. So given the fact that the game is still in Alpha and Beta testing hasn't begun, I would estimate the release date for the game to be sometime around early 2023. That is still a long way to go and the game has a long way to release, so sit tight while the devs do their work.
Read more: Fullmetal Alchemist Mobile: Finally Arriving To You!
War In Arms: Prime Forces Outlook
I am personally a huge fan of tactical shooters and haven't really experienced something quite as competitive as the real thing on mobile. However, with the loft promises of War In Arms: Prime Forces, I'm becoming more inclined to believe the hype and to hope for the best. What actually happens is something that only time will tell.
You may check out the game at the following link:
War In Arms: Prime Forces on Google Play Store
You may check out the alpha gameplay footage for the game here:
What are your thoughts on this new kid on the block? Does it hold up to the current generation of shooters? Let me know all about it in the comments down below.
As usual, stay tuned in to the Franchise Hound for the latest entertainment and gaming updates.