How many of you here are fans of Bear Grylls? In fact, how many of you here have heard about the man? Surely you must have heard of him. He is a major celebrity by now, and the man has a proper cult following. He is a household name that needs no introduction to anyone who has ever watched Discovery Channel. In fact, I would go as far as to say that he might just be the face of Discovery Channel. For those of you, who are still confused, Bear Grylls is a wildlife expert and survivalist, who is famous for his show Man vs Wild on the Discovery Channel. In the show, he roams wildlands and harsh climates without any support and attempts to survive by making use of all that he has on hand. And now, it seems that he is here for yet another adventure, with his latest series You Vs Wild: Out Cold on Netflix. So today we are going to talk all about this interactive new series by the greatest survivalist on Earth.
Also, I would want you to read more about Into The Night Season 2 Review. Into the Night is yet another survival show where our heroes go up against a killer sun to survive. It is not easy, and survival isn't guaranteed. So definitely check it out.
What's the New Series?
You Vs Wild: Out Cold is the latest series by Bear Grylls on Netflix. The theme here is again survival in the wildlands, but with a twist. For starters, this is going to be an interactive series, which means that the viewers will be helping our survival expert make the right choices in his journey to survival, which brings a hint of realism to the series. And in addition to that, there is a lot more that the new trailer for the show reveals. And it has me really excited because I'm one of those people who grew up watching Bear Grylls daily. And it is quite nostalgic for me to go back and explore the survivalist series on the Netflix platform, in an entirely new fashion, with new dangers, and new locations.
So it is going to be quite exciting and I'm really looking forward to it. And I'm sure that those of you who are fans of the Man vs Wild series are just going to love You Vs Wild: Out Cold. And the fact that it is now on Netflix makes things so much easier as a lot of us don't have streaming sets anymore. So without much further discussion, let us get right into it and talk about You Vs Wild: Out Cold.
If you are a fan of such reality shows, then you might also want to watch How To Be A Cowboy: Reviewing A Funny Reality Show. How To Be A Cowboy is a show that takes place at a ranch and talks about life there. And our cowboys need a new intern, and things change when Jorden joins them. So it is quite an interesting series and I highly recommend you to watch it.
You Vs Wild: Out Cold: About the Show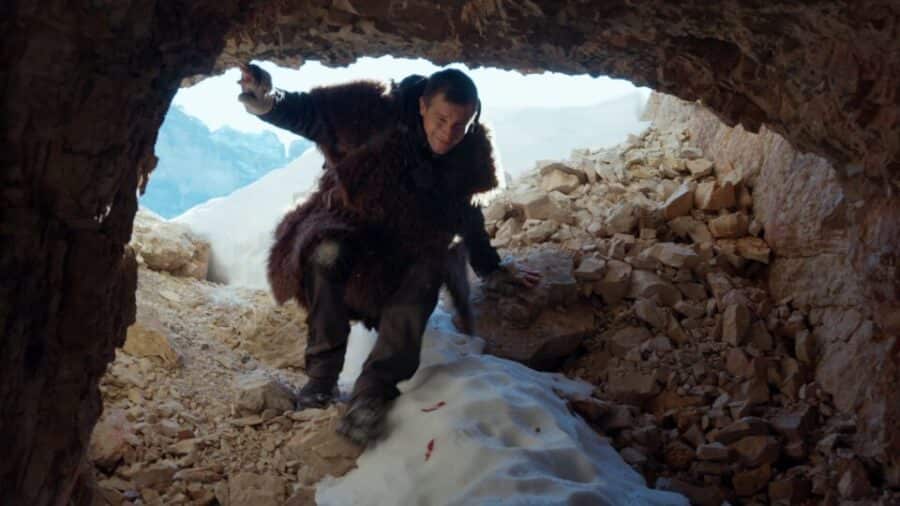 Talking about You Vs Wild: Out Cold, it is pretty much the same concept as what we have seen before from Bear Grylls. There are a few changes here and there, but that is about it. He is still going to climb the same treacherous slops, tread down the dangerous paths, and deal with wild animals the same way. So there is going to be no shortage of the survival content that we are here for. In fact, it is highly possible that we might be in for even more gruesome action and survivalist tactics.
For those of you who still don't know who Bear Grylls is, he has become known worldwide as one of the most recognized faces of survival and outdoor adventure. Trained from a young age in martial arts, Grylls went on to spend three years as a soldier in the British Special Forces, as part of 21 SAS Regiment. It was here that he perfected many of the survival skills that his fans all over the world enjoy, as he pits himself against the worst of Mother Nature.
In fact, this is not the first time that we have seen You Vs Wild content. Bear Grylls previously had a similar series with the title Animals on the Loose. The series was one in which Grylls tracked down lost animals from the wildlife sanctuary. The animals have escaped and unless Grylls brings them back, they are endangered. Animals on the Loose ran across eight episodes and was well received by the audience. So the team got on another season of You Vs Wild to deliver the audience what they wanted.
The series is being produced by the man Bear Grylls himself and is going to feature Ben Simms as the director. The official synopsis for You Vs Wild: Out Cold reads, "Bear Grylls is back for another exciting interactive movie for the whole family. Following a plane crash in the ice ravaged mountains, Bear finds himself with amnesia trying to save himself and the pilot from the harsh winter elements. Bear will face huge rock walls, freezing dark tunnels, and creepy wildlife creatures. He's in big trouble, and he needs your help to find his friend and get out of danger."
Reading that, I'm already intrigued about what the fate of the new show is going to be. It certainly sounds really interesting. And I'm sure it is going to be too. The new show is going to have the viewers assisting our man Bear Grylls choose between difficult choices. Whether it be choosing between shelter and water, or whether it be to "climb over to the other side mountain or attempt to navigate through old tunnels, or eat this huge bug or that huge bug".
Based on your interest in You vs Wild, I feel that there is another series that you do need to watch. Squid Game: Plot, Release Date, Cast, And More! is one that you definitely need to watch. It is also survival based content. In fact, it is a Korean series in which a number of contestants play a survival game. So definitely give it a shot if you are into survival stuff.
You Vs Wild: Out Cold: Release Date
Now, if you have read so far, you are probably interested in this series and are going to watch it. So you must also be dying to find out the release date for it too? Isn't that the case. Well, we certainly do have a release date for the show. Netflix has revealed that it is going to release You Vs Wild: Out Cold on the platform on September 14th, 2021. It's literally here! So do your best and watch the show on Netflix right now! What are you waiting for?
You might also be interested in A Cinderella Story: Coming To Netflix
You Vs Wild: Out Cold: Final Words
You Vs Wild: Out Cold is one of those shows that is going to be quite amazing for those of us who grew up watching these, so I'm looking forward to it. And I highly recommend that you watch it too. It is really amazing. And you are just going to love it.
You Vs Wild: Out Cold is currently available on Netflix. You may watch it at the following link:
Watch You Vs Wild: Out Cold on Netflix
You may watch the trailer for the show down below:
What do you think about the show? Are you excited for it? Are you a fan of the legendary survivalist Bear Grylls. Let me know in the comments down below.
Stay tuned in to the Franchise Hound for the latest entertainment updates.